Sondag die 16de Julie 2017 was 'n happy en 'n sad dag vir your's truly gewees. Ek was happy omdat ek vir Van Coke Kartel live kan sien by Atterbury Teater (in Pretoria Oos maar sad omdat dit hulle laaste show ever in Pretoria was.
Van Coke Kartel is gevorm in 2007 (toe Fokofpolisiekar in hiatus was) en oor die jare het hierdie Bellville based orkessie diep in my hartjie ingeklim. Soos ek al voorheen gesê het, moet ek erken dat ek nie van die begin af 'n massive fan was nie, maar van 2009 af was ek completely hooked gewees (te danke aan hulle amazing set by Oppikoppi Smoorverlief).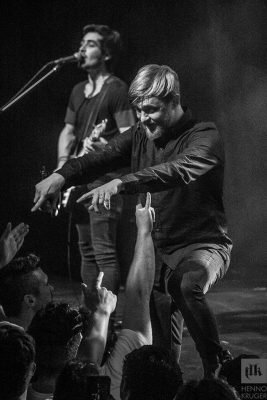 Ek sal Van Coke Kartel se laaste Pretoria show nooit vergeet nie. Dit was vrek lekker om elke liewe song saam met die band te sing en terug te dink aan al die kere wat ek hulle by Arcade Empire, Oppikoppi, RAMFest, Vredefest en ander feeste en venues gesien en afgeneem het. Dit het my laat besef hoe ver paadjie ek al gestap in my fotografie en met Running Wolf's Rant en dat dinge net nie dieselfde sou wees sonder hulle invloed nie.
Eks spyt dat ek die ander shows op hulle toer gemis het daai naweek, maar eks bly dat ek nie 'n paar ekstra bruises opgetel het in die proses nie. Ek haal my hoed af vir Henry Engelbrecht, Henry Marsh en Wayde Flowerday (fotograwe wat al baie saam my in fotografie pits was) wat by 4 Van Coke Kartel shows was oor daai naweek (Arcade Empire – Vrydag, Rumours Rock City – Saterdag, Atterbury Teater – Sondag & Mystic Boer Potchefstroom – Maandag). Julle is legends.
Ek is dankbaar vir die invloed wat Van Coke Kartel op my gehad het en al die dinge wat ek geleer het en ek gaan hulle mis, maar ek weet ook die lewe gaan aan. Miskien surprise hulle ons met 'n reunion show in 2027, wie weet?
Wees op die uitkyk vir gereelde opdaterings in die Photography en Music kategoriëe op Running Wolf's Rant.
Do you like what you're reading on Running Wolf's Rant? Join Our Cub House on Facebook!
If you're a fan of SA Music, join the All Things SA Music group on Facebook!
Want to write for this blog? Click here to find how you can become part of the Wolf Pack!