DZ Deathrays are making their way to South Africa in March 2018. They will be playing a few shows in the country while they're here, but the one I'm looking forward to the most is their set at Mieliepop 2018.
I had a chat to the band (who hail from Brisbane, Australia) via e-mail about their set at Mieliepop 2018 and a few other things. This is what the blokes had to say.
People have probably asked you this before, but there where does the name "DZ Deathrays" come from?
We used to call our old band 'the DZ' as a nickname, then when we started this band we took that and went with just DZ. Then we found out there was a dubstep DJ called DZ so we added the "Deathrays" part… it's not the greatest name but so far it works. (Interesting and yes it does work).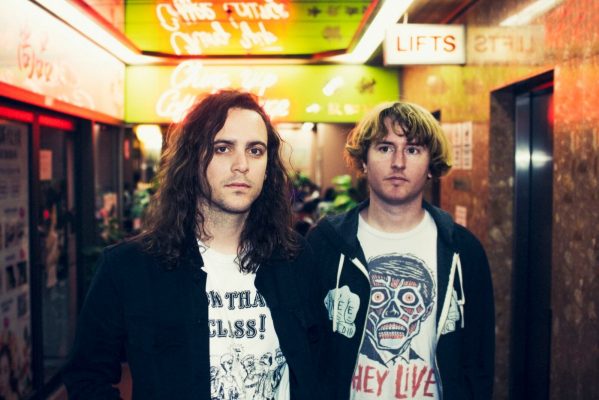 What is the first thing that comes to mind when you think of South Africa?
The amazing accent you guys have. (Thanks, the Aussie accent is not half bad either)
You released a brand new album a little while ago. How would you say it differs from your previous recordings?
I feel like its just a straight up party album. Something you can play at a bar or a house party and doesn't have any lulls. (Nothing wrong with that.)
Who would in a celebrity death match between Justin Bieber and Kanye West and why?
I'd say Kanye, he grew up in the Chicago hip hop scene. Although Bieber could be a wild card… (I think I agree with you, that Bieber is very unpredictable sometimes)
What is the funniest thing that's happening to you blokes during a live show?
One time in Perth someone threw a dildo at our guitarist Lachy. I don't think he saw the funny side of it but it was. (Is there video evidence of this? Must have been an interesting sight…)
What can music fans expect from your set at Mieliepop 2018?
We'll be playing a bunch of songs off our records. (Like you should and I'm definitely looking forward to experience it)
I'd like to thank DZ Deathrays for this interview and I wish them all of the best with their upcoming South African tour. I can't wait to watch them perform at Mieliepop 2018. It's most likely going to be one of the highlights of the festival.
If you're not familiar with their music, check out the music video for their song "Like People" (which was released a week ago) below. The song is on their brand new album (which is entitled Bloody Lovely).
If you don't have your tickets for Mieliepop 2018 yet, get them HERE or try your luck in our competition – we are giving away a double ticket to this amazing festival (which is hosted at an amazing venue in Mpumalanga).
Watch this space for regular updates in the Music category on Running Wolf's Rant.
Blogger, Desktop Activist, Twitter / Facebook Addict, Music Festival Addict, Avid lover of South African music, Founder and owner of Running Wolf's Rant
Want to know who our friends are? Click here
Need to kill some time? Read a random article on RWR! Click here
Click here to explore all the sections on Running Wolf's Rant
Click here to read our latest reviews on Running Wolf's Rant