2013 was a great year for live music in South Africa. Today I realized just how lucky I am: I've photographed no less than 17 international acts in the last year. Kudos to all the organizers for giving me the opportunity to photograph bands at RAMFest, Parklife Music Festival, 5 Gum Experience, Carnival City, Oppikoppi, Vodacom In the City, Mieliepop Festival, Jose Cuervo #PartyAnimals, Synergy Live Johannesburg and the Coca-Cola Dome. This post features 1 photo of each international act I've photographed in 2013.
Bring Me The Horizon: This UK metalcore act headlined RAMFest Johannesburg and Cape Town this year and completely blew South African rock and metal fans away. I have to admit that I was not familiar with their music before they made their way here, but they turned me into an instant fan with their hard-hitting riffs and lyrics.
One of the blokes from Bring Me The Horizon (Jordan Fish) saw this photo I took of them at RAMFest Johannesburg this year and shared it on his Instagram account and the Bring Me the Horizon Tumblr account. It ended up getting over 1700 likes on Instagram and over 9000 notes on Tumblr. Pretty damn impressive if you ask me.
Rise Against: This American rock band also headlined RAMFest in Johannesburg and Cape Town this year. Their performance at Riversands Farm in Fourways completely blew away everyone who was there. I got a little emotional when they played "Swing Life Away" and "Hero of War" and I rocked out to the max to songs like "Prayer for the Refugee", "Saviour" and "Good Left Undone". Rise Against were definitely one of the best live acts I saw in 2013.
Xavier Rudd: I saw this Australian bloke at the first edition of Parklife Music Festival at Mark's Park in Johannesburg in March this year. I have to admit that I had only heard one of his songs on Tuks FM, but as I was watched his performance realized that he has so much more up his musical sleeve. He's definitely one of the most talented musicians I've seen live in 2013.
The Kooks: This UK rock band made their way to Cape Town and Johannesburg in April to perform at the 5 Gum Experience parties. I attended the Jozi one. It was pissing down with rain most of the night, but it did not stop 5,000 people from making their way on buses to the venue (which was set up under the M2 highway in the Joburg CBD). The Kooks played an enjoyable set and I managed to get one or two shots of them, even though there wasn't a photo pit.
Chevelle: This amazing rock band from the USA played shows in Cape Town (at the Grand West Arena) and Johannesburg (at Carnival City) in May / June this year. Both shows were sold out and the capacity crowds experienced some truly awesome rock 'n roll and sang along loudly to tunes like "The Red" and "Send the Pain Below". I still want to kick myself for missing the press conference at the Joburg show, I could have met the band…
Manchester Orchestra: These American blokes were one of the international headliners at Oppikoppi 2013 Bewilderbeast. I have to admit that I was particularly impressed by their intense guitar riffs that could make even the staunchiest church tannie rocking out and the impressive vocal range of the lead vocalist – I was pretty blown away.
Yellowcard: This pop punk / rock band from the USA also headlined Oppikoppi 2013 Bewilderbeast and were extremely tight on stage. The violin player was quite energetic and the band's fans were singing along to most of their songs throughout their entire set. They didn't move around too much on stage, so they were one of the easier shoots that I've had this year.
Deftones: A lot of their hardcore fans waited for a long time for them to finally make their way to South Africa and were not disappointed at all at Oppikoppi 2013 Bewilderbeast. I am not familiar with ALL their music, so it wasn't such an amazing experience for me, but I have to admit that I was blown away when they played "My Own Summer (Shove it)" and I want to kick myself for missing "Change (In the House of Flies).  I did get some epic pics though, Chino really knows what he's doing on stage.
Billy Talent: These Canadian rockers made their way to the National Botanical Gardens in late August of this year, much to the delight of their fans. I loved this show because it was during the day and I was able to get some really awesome shot with less effort than usual. Billy Talent were definitely one of the best live acts I saw in 2013.
Alt-J: This UK act played at Vodacom In the City in Johannesburg and at Rocking The Daisies this year. I must say that I was not disappointed with their performance, just sad that I could only photograph them for one song. I wasn't a fan of their music before I saw them live, but I am definitely one now. Pretty damn impressive if you ask me.
The Hives: I waited a long time for these Swedish rockers to make their way to South Africa and I was not disappointed with their performance at Mary Fitzgerald Square in Newtown. They are extremely vibrant and really got the party started after Alt-J set the standard for live performances on that awesome night in October 2013.
Skunk Anansie: This UK alternative rock band made their way to South Africa in 1998 and I missed them. I was glad when I got the opportunity to photograph them this time around though. This was one of the most intense musical experiences of my life – I've never seen a grown woman walking on the crowds hands during a rock show – two words come to mind: "Mind Blown".
Men Without Hats: I saw these Canadian masters of synth pop at Mieliepop Festival this year. I have to admit that I expected a little bit more from their live set, but it was still pretty damn epic photographing the guy that used to dance like the pied piper in the "Safety Dance" music video from the early 1980's.
The Subways: This band (who gained fame for their song "Rock 'n Roll Queen") played two shows in South Africa in late November (one in Johannesburg and one in Cape Town). I was luckily enough to have VIP access to this amazing Jose Cuervo #PartyAnimals experience and was actually glad that the organizers moved the set indoors – it felt like I was in that club they played in in the Guy Ritchie film, RocknRolla.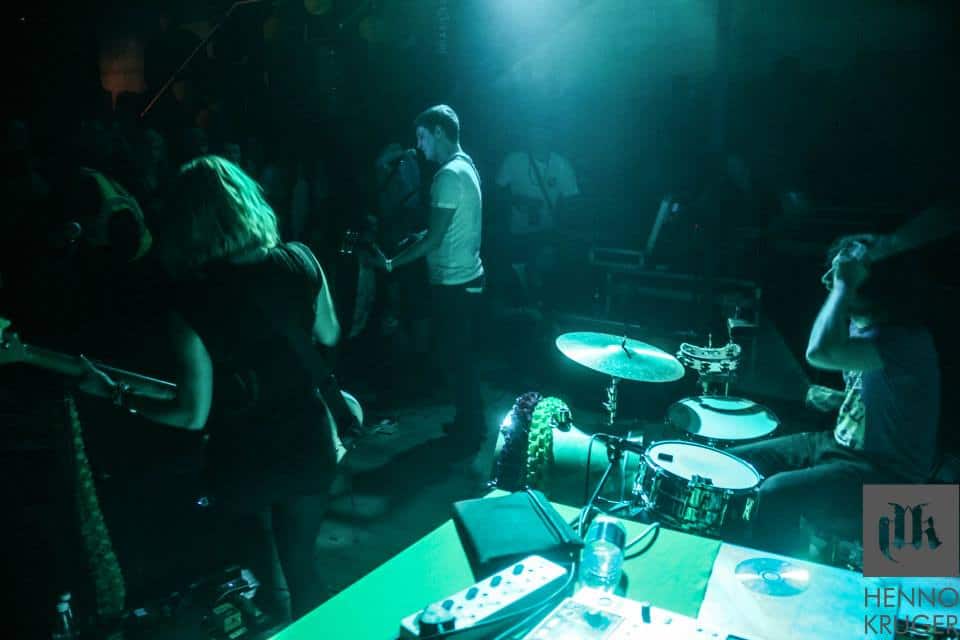 Everything Everything: This UK rock band played at Synergy Live in Johannesburg and Cape Town this year. Even though the venue wasn't the best, these blokes impressed me with their unique sound. I managed to get a few awesome shots of them (even though there wasn't a media pit).
Red Jumpsuit Apparatus: Another act that performed Synergy Live in Johannesburg and Cape Town. I have to admit that I'm not a huge fan and that their set at Bassline wasn't one of the highlights of my year, but I'll admit that they weren't that bad live, I've seen worse.
Dave Matthews Band: I saw these blokes live at the Coca-Cola Dome in Johannesburg. I was over the moon when I found out that I could photograph them. I had been waiting for more than 15 years to see this band live and I was not disappointed – definitely one of the highlights for 2013 for me.
Well, there you have it, 17 International Acts that I photographed in 2013. I hope that I can top this count in 2014. Which one of these acts was your favorite and why? Leave a comment and let me know what you think. Feedback is appreciated and welcome here. If you've enjoyed this trip down 2013's memory lane, feel free to share this article with your friends on Facebook and Twitter. Remember: Sharing is Caring.
Watch this space for regular updates in the Photography and Music categories on Running Wolf's Rant.