Looking for fixes that will boost your local SEO? Well, we've got you cover.
It's fact that with the growth in technology and the advent of digital competitors, there has been a lot of contention. It is a time when only the best wins. If you are a local business, it becomes all the more imperative to be the top performer in the market.
It can be tricky to beat the local businesses that have been ranking for local SEO for a while now. Additionally, understanding the evolving-list of ranking factors for Google is another task in itself.
According to a study, 46% of the searches on Google are local. While 58% of mobile users hunt for local businesses daily, it is estimated that around 88% search for them once a week. Out of this search, more than 72% of these users visit a local store that is within five miles.**
Thus, it can be said applying local SEO strategy in 2020 is quite important for small businesses if they want to get noticed by the local community. Before discussing this concept further, let us start with the basics.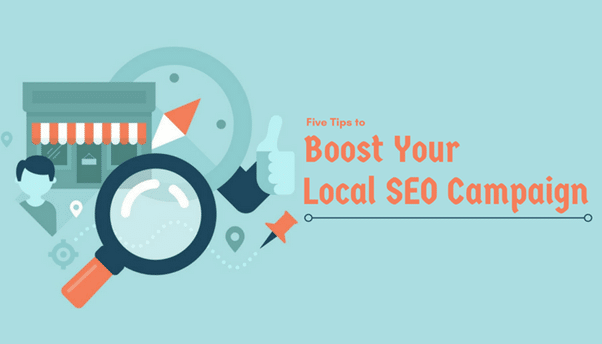 What is Local SEO?
Local SEO is the process where local business sites are optimized so that they rank higher on search engines for local search queries. Traditional SEO still plays a significant role when it comes to ranking on search engines, but if you have a service-based business that can prosper by targeting the local audience, it is best to implement local SEO strategies to attract more customers.
To optimize for local SEO, here are 5 local search optimization tips that can yield positive results:
1. Optimize the Website with NAP (name, address, phone)
The NAP citation requires a business to specify their name, address, and phone number so that they can be listed on local directories for people to discover. Google uses your NAP information to identify your business and understand its authenticity.
Google will consider your business authentic, only if you have a high number of correct NAP citations. Thus, it is a good idea to get NAP cited on as many online directories and reputed business listing websites as possible, such as Xero Advisor Director, Yelp, cloud software directory, etc.
Another part of this strategy can be to search for listings that are appropriate for your business by searching for niche-specific keywords like "car listing in Alabama" or "top car listing sites." You can utilize various online tools available in the market today to ensure consistency in your NAP citations.
2. Have a Business Listing on Google My Business and Bing Places
To show up in local searches, ensure that you optimize your business profile on Google My Business (GMB). GMB would provide you with a step-by-step optimization process to follow diligently. You need to make sure that your business profile is complete in all aspects, and every information is updated in your GMB profile. Also, adding an accurate business location on Google Maps will help your local audience to find your business easily.
In case you make any changes to the name, address, contact details, or working hours of the business, it should immediately be updated on GMB. If you are a freelancer or run your business from home, then update your home address as your business location.
3. Build your Social Media profile
Having a business website is a necessity in the digital world. It gives a high level of credibility to the business. Social media has a much broader reach than any other type of marketing. Although it might take time to build a good amount of traffic, it will boost your business in the long run.
Social media helps businesses in gaining visibility and building relationships with local customers besides promoting their products and services.
4. Research for Local Keywords
Researching for local keywords is an essential part of local SEO. These are keywords that include a specific area or city name like "ice cream shops in New York.". By implementing and including these keywords in your content, you can target the local audience and appear in local searches.
5. Be Known Locally
Be your own PR if you want more people in your area to know your business. One way you can do so is by asking your local union website to give a backlink to your business. Usually, most local union websites will have a list of businesses registered with them. It could be the perfect opportunity to build some quality backlinks from there. Besides, you can also bring attention to your business by talking about local issues in your blog. For example, if you run a medicine store, you can talk about how using sanitizers and masks can help in the prevention of virus causing flu.
Additionally, you can also sponsor some local events and get coverage on online media. Once you get a mention in the local news, you can request the website owner to give you a link back to the website.
Conclusion
The process of local SEO can take time. However, following the above local SEO tips in 2020 can significantly help you boost the online visibility of your local business. Ensure that you include the above tactics in your marketing plan.
Watch this space for updates in the Hacks category on Running Wolf's Rant.