Whether it is a cycle ride along rural back roads, a trek into the mountains, a climbing expedition to a majestic peak or a mountain bike challenge over rugged mountains, adventure tourism benefits your mental, physical and emotional state and liberates the soul.
Embarking on an adventure is the best way to experience the world first hand. It is not called 'soul food' without reason. It comes as little surprise that adventure tourism is gaining popularity and following are some reasons why:
1. Stress reduces when the time is spent outdoors
Have you seen the faces of those who have just come back from an adventure trip? It is almost sure that a big wide smile would greet you back. When you are going to spend your days surrounded by stunning scenery, any stress that you may have had in your system will definitely melt away.
In fact, studies suggest that even going for an expedition or backpacking trip is not necessary and that even a walk in nature every day will lower your stress levels and boost your level of attention.
Nature experiences even when had for a short duration can decrease the pattern of thinking which is associated with the onset of certain mental illnesses.
So, for those who are experiencing the strain of living in the city, immersing themselves in nature is the best way to reduce your stress.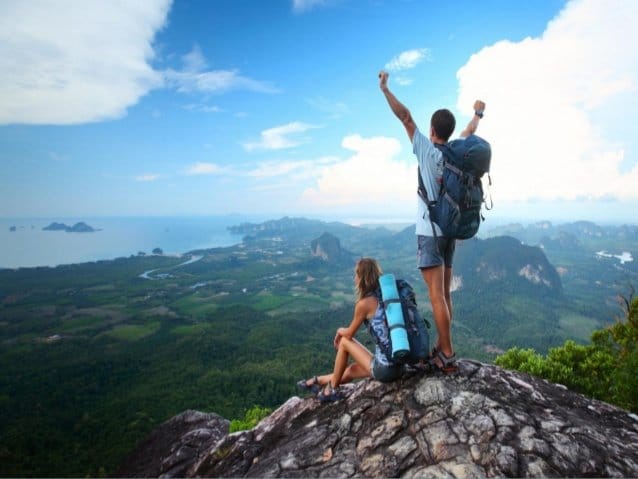 2. It makes exercise easier
If you are struggling to find the motivation to get into shape this bit of information should give you a lot of relief. The colour green is believed to have a soothing effect on our eyes.
The fact that grass, trees and other plants in nature are green in colour supports the theory that nature makes it easier for us to exercise. You can also verify this bit yourself, if you exercise in nature you will feel lower levels of exertion and you will also display fewer mood disturbances.
3. It regenerates and rejuvenates  your soul
A good reason to spend time cycling and trekking is that it can rejuvenate and regenerate your mental state. Viewing natural beauty is known to elicit feelings of awe and triggers a mental boost as it releases endorphins.
Psychologists believe that we feel good when we look at things that we know are good for us, even if we are not aware of it. Trees offer protection, shade and the moment we look at them we associate them food, comfort and protection.
4. You get a sense of accomplishment
Regardless of size and age, it is possible to have a feeling of personal achievement if you take on an overseas adventure. The greater the challenge and more difficult the trek, the more sense of achievement you will feel at the completion of the goal.
If you make adventure travel a personal goal you will have a euphoric feeling and it is likely to stay with you even after you have returned home.
5. It raises your self awareness
Raising your self-awareness is a bi-product of travel. Adventure travel brings us closer to our inner self and gives us the chance to examine and challenge ourselves. The fact that we are about to step into the unknown and take risks makes us realise that we need to put in greater attention.
As a result, we develop an intense state of self-awareness. Mountain climbers need great levels of self-awareness when they are climbing mountains and this is the reason why they participate in adventure activities.
6. It makes us smarter
You can increase your higher order cognition by immersing yourself in the outdoors. If you were to take a brain scan after exercising you are likely to experience more focused and greater activity in the prefrontal cortex than before.
Moreover, there is an increased level of activity in the hippocampus which is considered to be the brain's main storage unit. What contributes to the smartness is that adventure travel makes us learn new skills as it creates new challenges for us.
Another reason why adventure travel is gaining popularity is that you get to learn more about stag do venues and you become the go-to person when people need suggestions for places to travel to.
What are your thoughts on Adventure Toursim? Feel free to leave a comment below and let us know.
Watch this space for regular updates in the Opinion category on Running Wolf's Rant.