For those of you that did not know, December Streets have been rocking it out since early 2009. Tristan Coetzee (on vocals / guitar), Nico van Loggerenberg (on lead guitar), Gideon Meyer (on bass), Waldo Boshoff (on trumpet) and Corneil Claasen (on drums) are the members of the band.
December Streets were the 2010 KFC Sessions Winner and their single 'My Name' has been playlisted on 5FM, Tuks FM, Puk FM and Matie FM. Eclectic rhythms, a symphonic trio of guitars, a voice to match, unique drumbeats and a pumping trumpet, this is a band to watch.
Their style ranges, but the catchy beat-lyric combos found in songs like 'Fire through the Window' and 'Who Needs Shoes' are a December Streets signature. Together, these Pretoria boys are bringing fresh flavour to the SA Music scene. Their EP was recorded at Anti-Motion studios, featuring campus hits like 'Fire through the Window' and 'Who Needs Shoes' (which both reached the number one position on Tuks FM's Most Wanted and SA Top 10 charts).
I have been following December Streets for a while now. I first saw them perform at the 2010 KFC Sessions finals. I've also seen them perform at Hatfield Carnival, Oppikoppi Unknown Brother and Vredefest September 2011. They're definitely one of the best live acts around at the moment (in my humble opinion).
I recently had the privilege to interview December Streets, this is what they had to say
Did you guys expect to be this popular after only a relatively short time in the music scene? 
Are we popular? We belief we still have a long way to go to claim the "popular" tag, but you can say that we have made great leaps in relative short amount of time, and that we did not expect at all, we still get excited for every show and every time we hear our songs on radio!
What is the funniest thing that's ever happened to you on stage?
We played a show in Pretoria a while back, and there was a ramp going out from the stage that people started dancing on and battling security guards off, and as all the fans were off and only the one security guy standing there, Tristan (our lead singer) asked him politely that he should dance now…
What are you currently working on?
At the moment we are trying as hard as possible to hit South Africa as hard as possible! Playing as much as we can and getting our name out to as many people as possible. We are trying to tour and cover as much of SA as possible! In December we will be all over the place! Check it out… Also some new singles on their way!
If you could play any festival in South Africa that haven't played yet, which one would it be?
Definitely Rocking the Daisies! We managed to tick of OppiKoppi and Splashy Fen this year, two awesome festivals, but would love to rock the Cape Town festivals as well!
Which local artist is your favorite to listen to?
There is really so many, but some of our favourites must be Flash Republic, aKing, Jax Panik, City Bowl Mizers, Die Tuindwergies and many more…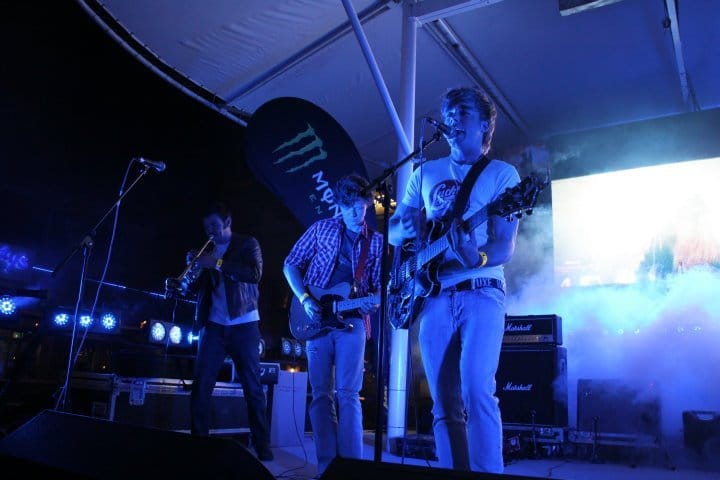 What are your thoughts about the SA Music industry in general?
We are at a great stage of development, exciting things are happening and we belief that the industry is moving. We are adapting to international trends and the production quality is just getting better and better.
Running Wolf's Rant would like to take this time to thank December Streets for taking their time to do this interview. We wish them the best of luck with their future musical endeavours.
You can find December Streets at the following online spaces:
Watch this space for updates in the Music category on Running Wolf's Rant.