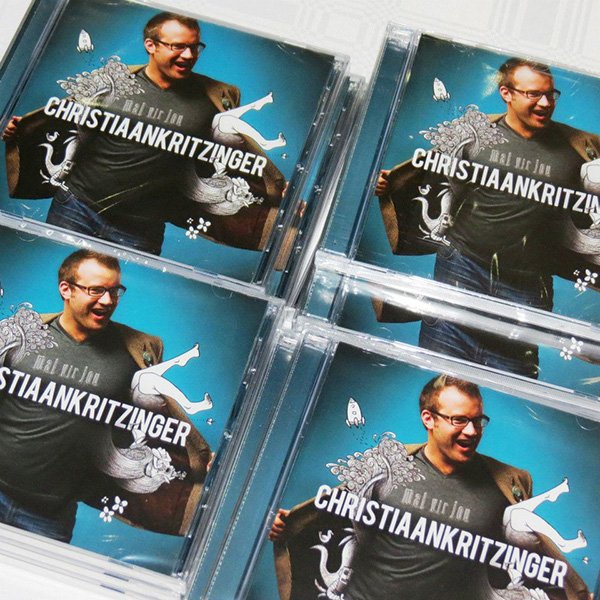 On Friday 26 October, after working on the CD for the last 3 and a half years, the wait was finally over for Christiaan Kritzinger who debuted his new CD "Mal Vir Jou" at the Aula building in the University of Pretoria. The show had performances by Medu, 'n Man Soos Jan and of course Christiaan Kritzinger and a guest appearance by Richard van der Westhuizen.
Christiaan performed the tracks off of his virtually all Afrikaans CD and gave those in the audience inside information on some the songs as well as the some of the events surrounding the writing of the songs that he himself wrote.
The track-list of the new CD looks a little something like this:
Huppel In My Stap
Mis Jou Meer
Mal Vir Jou
Asem
Ek Onthou
Kuier
Wind Se Lawaai
Meisie Sonder Sokkies
Manne Bly Maar Slange
Dansvloer
Waarsku Venus
Country Song
I got a chance to have a quick interview with Christiaan after the show… Here's what went down:
Tell me something about yourself, your educational background, and how you turned to music?
The first time on stage I was 4, from there the stage became my home, singing everywhere. I have 2 diploma's in jazz, 3 in Sound and 1 in theology. Life is so complicated , it helps to sometimes get lost.
What fills your day to day life?
Work work work. I am involved in 6 companies, mainly in the entertainment industry. so I work all day and play all night.
What inspires you the most in your work?
Challenges. If things where easy , what would be the point?
Do you write your own music? Where does that inspiration come from?
Most of it, but I believe a good muso can open his world to other possibilities. 5 Songs on my album I wrote, 5 colabs 1 cover and 1 of my friends songs. Inspiration is bound to emotion. When you can control your emotion , you can control your inspiration.
What are you currently doing & What are your future plans?
Working hard on the CD. I want to get this CD as far as possible. Recording a new music video in November and planning a Cape Town tour asap.
If you weren't singing, what would you be doing as a job?
Mmmm, think maybe a janitor at the Royal Albert Hall.
Does anyone else in your family sing?
Oh yes. On my mother's side we're all a bunch of muso's. My mom is a music teacher, my sis has 2 bmus degrees in music and the list goes on.
What's your favourite song off the CD and why?
Asem. It's very close to my heart. It's one of those songs where I stood back and realised that this song could not be written by me. it had to come form somewhere else, 'cause  I don't even understand the emotions involved.
In your opinion, Do the Alphabet song and Twinkle, Twinkle Little Star have the same tune?
Somebody I used to know and baby black sheep has the same tune, it's just inverted. Life is full of similarities. That's how we associate with each other.
What kind of music do you listen to?
Everything except rave and techno.
Who/what CD is playing in your car right now?
It alternates between, Some Nights and Justine Bieber.
Best advice ever given?
Focus on what you're doing right now, not what you have to do later.
Your favourite Quote?
Insanity is when you're doing the same thing and expecting different results.
First song ever sung?
Twinkle twinkle little star.
Quick fire, decaf or regular?
Duh… Decaf is wack, should be banned along with fake sugar and skim milk.
Snow or sun?
A sunny snowy day
Angelina or Jennifer
Angelina and Jennifer
Bulls or Sharks?
Stormers!!!
Check out Christiaan Kritzinger's social media accounts. Follow him, Like his page, listen to his music and subscribe to his channel!