Today I'm featuring 30 Epic Dave Grohl quotes. This legendary celebrated his 51st birthday on the 14th of January 2020. He was born in 1969 in Warren, Ohio in the USA). He was the last drummer for Nirvana and one of the founding members of Foo Fighters. Grohl is also the co-founder  of Them Crooked Vultures (a supergroup that was formed in 2009). Besides this, he's also toured and recorded with Queens of The Stone Age.
There's no shortage of epic quotes from Dave Grohl, so compiling this list was harder than you think. Check out my collection below. I'm sure that you'll find some of them interesting / entertaining.
Dave Grohl Quotes about talent shows:
1. "TV talent shows make everyone sound like fucking Christina Aguilera." (From an Interview with NME – published in March 2013)
2. "I think people should feel encouraged to be themselves. That's what bums me out about those shows where people are judged so harshly by fucking musicians that hardly even play an instrument on their own fucking albums. It makes me really mad." (Expressing his view about talent shows in an interview with NME in 2013)
3. "When I think about kids watching a TV show like American Idol or The Voice, then they think, 'Oh, OK, that's how you become a musician, you stand in line for eight fucking hours with 800 people at a convention center and… then you sing your heart out for someone and then they tell you it's not fuckin' good enough.' Can you imagine? It's destroying the next generation of musicians! Musicians should go to a yard sale and buy and old fucking drum set and get in their garage and just suck. And get their friends to come in and they'll suck, too. And then they'll fucking start playing and they'll have the best time they've ever had in their lives and then all of a sudden they'll become Nirvana. Because that's exactly what happened with Nirvana. Just a bunch of guys that had some shitty old instruments and they got together and started playing some noisy-ass shit, and they became the biggest band in the world. That can happen again! You don't need a fucking computer or the internet or The Voice or American Idol." (From interview with Sky Magazine in 2013).
Dave Grohl Quote about "Your Voice"
4. "It's YOUR VOICE. Cherish it. Respect it. Nurture it. Challenge it. Stretch it and scream until it's fucking gone because everyone is blessed with at least that, and who knows how long it will last." (Dave Grohl's Keynote Speech at SXSW 2013 in Austin, Texas).
Dave Grohl Quotes About Heavy Metal, "his job" and his diarrhoea
5. "Heavy Metal would not exist without Led Zeppelin, and if it did, it would suck." (From Rolling Stone's 100 Greatest Artists List).
6. "How could you not want to do this? I get to sit around and talk about rock'n'roll all day, then go play music with my friends and laugh my arse off backstage, until it's time to have a beer and get 80,000 people to sing with me. That's not work!"
7. "My diarrhoea once caused a riot in Japan. I had to retreat from a live performance because of 'technical difficulties'!"
Dave Grohl Quotes mentioning Nirvana
8. "There was this stuff that they used to clean the tape heads in the studio, and it was like pure alcohol and incredibly flammable. And so we started doing things like pouring it on someone's leg and lighting their leg on fire, or pouring it on someone's boot. I poured some on my head." (From interview with NPR in 2013)
9. "There's a band in a garage right now writing songs for an album that will do the same thing Nevermind did some 20 years ago. We don't know who and where, but it will fucking happen again. All it takes is for that storm to break." (From Interview with The Guardian in 2013)
10. "I don't think there's anything wrong with rock at all. It's overlooked. And right now, the current musical climate is not unlike it was back in 1991, right before Nirvana got popular."
11. "Through Kurt I saw the beauty of minimalism and the importance of music that's stripped down."
Dave Grohl Quotes about Burger King and Fashion
12. "I never needed much, and I never thought I'd get more than what I had. A trip to Burger King was the biggest thing in the world to me. Heaven." (Dave Grohl talking about his childhood)
13. "I'm not allergic to fashion. I'm just one of those people who when they put on a suit look like they're going to a funeral or to court." (From Interview with GQ in 2013).
Dave Grohl tells a fan to get out of his show
14. "You don't fucking fight at my show you asshole. Let me see him, who's fighting right now? It's that guy in the striped shirt. Hey motherfucker look at me, get the fuck out of my show right now." (Dave Grohl throwing out a fan at iTunes festival in 2011).
Dave Grohl Quote about not being perfect
15. "Singing into a microphone and learning to play an instrument and learning to do your craft, that's the most important thing for people to do. It's not about being perfect, it's not about sounding absolutely correct, it's not about what goes on in a computer. It's about what goes on in here [your heart] and what goes on in here [your head]."
Dave Grohl Quote about being on tour
16. "You wake up every morning on tour and you open your eyes and think, 'Does my back hurt? Does my throat hurt? Do I have another show in me?' We were doing three countries a day in Asia. I'm fucking exhausted. I have found a cure for insomnia though: the BBC Parliament channel." (From an interview with NME in 2018)
Dave Grohl expresses one of his wishes
17. "I wish I could sing like John Lennon, or Adele, or Josh Groban. I wish I could. But I was raised on some really dissonant, noisy, crazy punk rock so a lot of my favourite vocalists most people wouldn't even consider singers." (From an interview on CBS Sunday Morning in 2018)
Dave Grohl talks about Donald Trump
18. "I've probably travelled internationally more than our current president and the one thing I understand that he doesn't is that the world isn't as big as you think it is. It is all in your neighbourhood. India, Asia, Iceland aren't other solar systems." (From an interview with GQ in 2018).
Dave Grohl talks about making a Foo Fighters record
19. "Every record we go into make we go in thinking we're gonna make 'Dark Side of the Moon' or 'The White Album' but at the end of the day we end up with a Foo Fighters record there's nothing we can do." (From an interview with Zane Low on Beats 1)
Dave Grohl talks about breaking his leg
20. "What seemed like a setback at the time has turned into this beautiful blessing in disguise, where this throne and these crutches and these audiences make us play longer and harder than we ever have." (From an interview with Entertainment Weekly in 2015)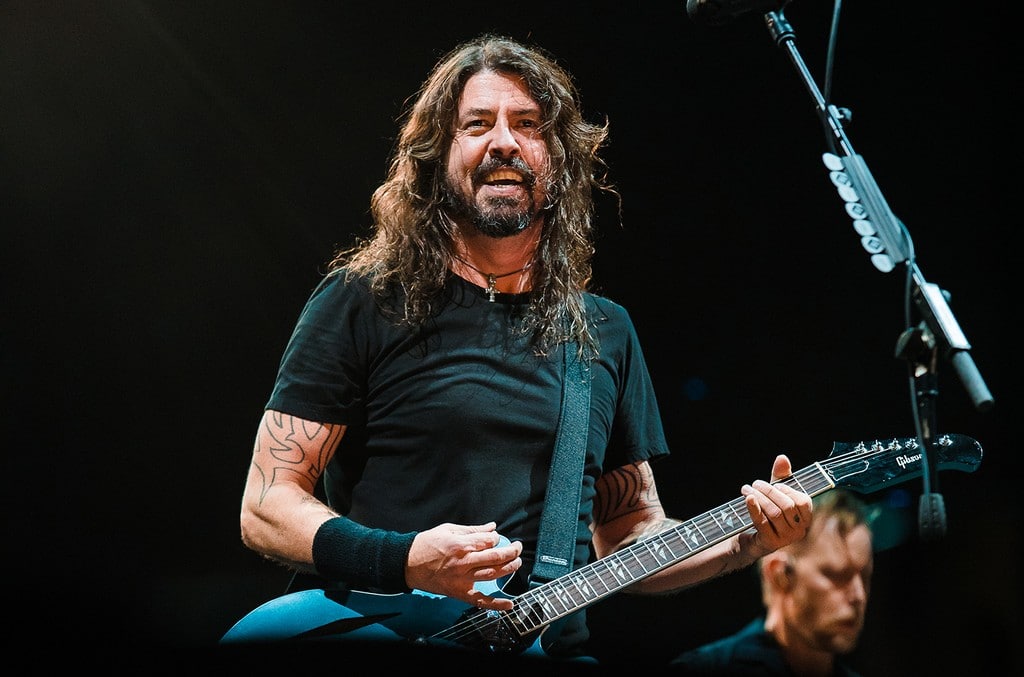 Dave Grohl talks about Kanye West
21. "I think maybe Kanye's personality might be harder to swallow than his music. But these are the moments that make for great moments in the history of rock 'n' roll". (From an interview with The Sun in 2015).
Dave Grohl Quotes about Drugs
22. "When I tell people I've never done cocaine in my life, they think I'm lying! But I love music, and I love life. And to me, survival is the game – that's the hardest part. I just wanna play music." (From an interview on CBS Sunday Morning in 2018).
23. "I love to play music. So why endanger that with something like drugs?"
Dave Grohl Quotes About Music
24. "That's one of the great things about music. You can sing a song to 85,000 people and they'll sing it back for 85,000 different reasons."
25. "Never lose faith in real rock and roll music. Never lose faith in that. You might have to look a little harder, but it's always going to be there."
26. "I've always been a fan of melody and emotional melancholy, whether it was Rites of Spring or Tears for Fears or Neil Young. If I hear a song that has a sweet melody, I'm a sucker for it, whether it's Linkin Park or Little Richard."
Dave Grohl Expresses his views about Guilty Pleasures, Rock Stars, Impressions of Him and Guilt
27. "I don't believe in guilty pleasures. If you fucking like something, like it."
28. "Rock stars are like sports stars: If you snap your ankle, you're done."
29. "It's funny; recently I've started to notice people's impersonations of me, and it's basically like a hyperactive child."
30. "Guilt is cancer. Guilt will confine you, torture you, destroy you as an artist. It's a black wall. It's a thief."
Well, there you have, 30 Epic Dave Grohl Quotes. I hope that you found these entertaining / interesting. If you did, feel free to share this article with your friends on Facebook or Twitter.
Watch this space for updates in the Music category on Running Wolf's Rant.