Easy Equities is the easiest-to-use and cheapest online investment platform in South Africa. The platform allows anyone to buy shares in the brands and companies they love. Easy Equities aims to disrupt and remove the barriers to entry into South African and international stock markets, making the purchase of shares easy, cheap and fun, and ensuring that anyone can own shares in the companies they love.
Easy Equities is focused on delivering an online experience that is easy and engaging. That is why their team is constantly developing new products and services based on customer feedback and suggestions. Their platform was built and continues to grow with and for investors.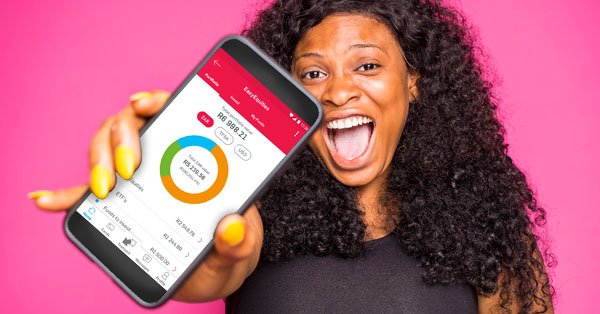 What exactly can you do with Easy Equities?
You can register as an investor for FREE. There are no hidden costs. Once you've signed up, you get a ZAR Demo account and a US Demo account. With these accounts you can practice your investment skills. Practice makes perfect after all.
You need to complete your profile on their secure platform to activate your live account. This is subject to FICA (the Financial Intelligence Centre Act), but the process is quite easy. You can choose to activate your ZAR Equity Account, your USD equity account and your ZAR Tax Free Savings account.
You can manage and activate these accounts at any time from within your account settings. Your accounts will be activated as soon as Easy Equities has verified who you are and where you live. When your account(s) are active, you can transfer funds to invest via EFT or Credit Card.
You can also create a RA (Retirement Annuity Account) that you can use to invest funds to build some cash for your retirement (at age 55).
Here are 3 Reasons Why You Should Invest With Easy Equities
1. It's legit, safe and secure
Easy Equities is a legitimate and licensed online platform. Someone from the company is not going take the money you invest, buy a brand Porsche and post about it on Instagram. Security measures are in place to ensure this.
1. With your ZAR Equities account, you can trade stocks in companies that are listed on the JSE like MTN, Vodacom, ABSA, Shoprite, Telkom and various others. You can also invest ETFs (Exchange Traded Funds), ETNs (Exchange Traded Notes) and Crypto. Baskets and Bundles are available to suit your investment needs.
2. With your ZAR Tax Free Savings Account you can invest in ETFs. Baskets and bundles are also available for this type of account.
3. With your USD Equities account you can invest in US companies (like Amazon, Facebook, Alphabet and Netflix), ETFs and ETNs. Baskets and bundles are also available for this type of account.
4. With your RA (Retirement Annuity) Account you can invest in Retirement bundles and Unit Trusts.
You can track your investments on their website or via their Mobile App (which is available for iOS and Android).
2. It's Cheap
Easy Equities has jumped through all the legal and technical hoops to deliver you nice-price investing. There are no minimums, no monthly fees and there are super low commissions. It's also important to mention that you have Fractional Share Rights –  this allows you to invest with whatever amount you can afford and it will only cost you 64c per R100 that you invest. You won't find a cheaper alternative.
3. It's a great platform to use to save money
In these times, it's great to have a few bucks lying around (thanks to effects of the COVID-19 pandemic). Instead of spending your extra moolah on non-essentials, transfer some of it into your TFSA (Tax Free Savings Account) and invest a little bit into an ETF every month. You can transfer up to R36,000 a year (R500,000 in your lifetime) into your account(s) at Easy Equities. Whatever you save in your TFSA account is Tax Free! SARS can't touch it!
Well, there you have it, 3 Reasons Why You Should Invest With Easy Equities. If you're not investing yet, click here to register NOW!
Watch this space for updates in the Opinion category on Running Wolf's Rant.