How do you monitor your pet when you're not at home? We have seen many dog parents getting worried about their little pup when they are at work or away from home. They don't have the peace of mind, as they are constantly thinking about their pet who is alone at home.
If you are on the same page as that of other pet parents, then you have landed on the right place. Here we have described various ways for you to monitor your pet and ensure that they are safe.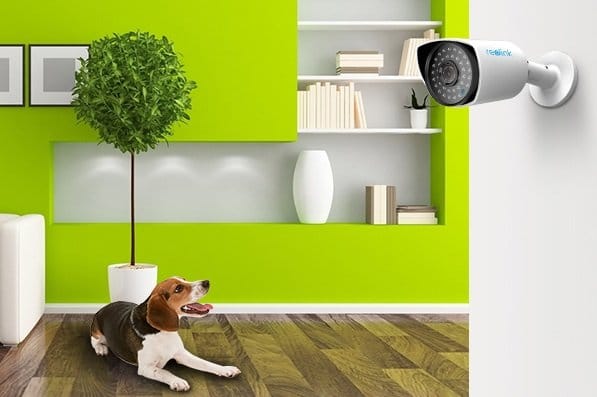 Pro tip: One of the effective ways to overcome this anxiety, is to set up an indoor security camera in the key places of your home like the living room, kitchen and hallway.
This way, you will be monitoring all the activities of your furry-buddy. You can check in on your place whenever you get time and from wherever you are. But before you spend hundreds of pounds on adding a camera, there are a few things you should keep in mind.
1. Don't check in on your home often
Yes, we are saying this, because we have seen many parents who regret adding an indoor camera in their home. Initially, when you have a camera fixed, you are either excited or worried that you keep checking on your pooch over and over again, and end up doing next to no work at the office.
So, if you are a textbook overthinker, then you need to be careful and control yourself from being distracted just so you can monitor your pet often.
2. Be careful about hacking
The only way you can keep an eye on your home through a camera is via an internet connection. Now, there is no need to say that anyone can gain access to your home by hacking the connection you have set between your personal device and indoor camera.
And of course, the last thing you would like to do is make your home available for malicious folk. After all, the security device you have added is for increasing the security and safety of your home and not attracting burglars.
Generic cameras that have little to no feature are more susceptible to security and therefore, are far more dangerous. They can give the entire view of your home to thieves. But if you are using a protected or branded device, then you can consider your home protected, as such quality devices have several key features that are hard to crack.
Also, while establishing the setup, make sure you have set up a strong password with a combination of various characters, numbers and special characters. And ensure twice that your home WiFi is well protected. In other words, do everything that you can to protect your network against any kind of hacking.
3. Buy a quality device
You may get hundreds of security camera in the market, but all those are not necessarily good, especially the ones that have fewer features. So, make sure you are investing a fortune only on quality things which come up with high-security features and give a 360-degree view of your home.
This way, you can concentrate more on your work as well as keep a watch over the playful activities of your furry buddy.
Also, make sure that your actions can be heard easily without any disturbance. That way, if your pup is jumping on your couch or performing any action that he is not allowed to do in your presence, then you can command them to sit down and not do whatever they are doing.
Even if they go in the backyard that is not covered by the camera, you can still call them up by giving an oral command.
And if you notice any unexpected or harmful activity from them, you can warm them immediately. For example, if your pup plays with or gets in touch with any objects that could be fatal to them like a knife, pet clipper or scissor, then you can command them to not touch it.
We hope this post will help you track all the activities of your pet and give you the mental peace that you were looking for. Hope these tips help you to monitor your pet at home.
Watch this space for updates in the Hacks category on Running Wolf's Rant.