A poker tournament requires cunning skill to win. There are many competitors, and there are many variables that dictate how the tournament plays out.
Thus, it is important to know what to do under a variety of conditions. Today, we will talk about what to do in the event that you find yourself with the chip lead in a poker tournament.
Recognize The Moment And Adapt
It is a very rewarding feeling to be the chip leader in any poker tournament. It is worth pausing for a moment and understanding what you have accomplished. Unfortunately, some people allow themselves to get carried away in that moment and don't take full stock of what has just happened. They begin to think that they are invincible and that there is nothing that they can possibly do wrong. That is not the case, and it is important that this be recognized.
Think about the stakes of other players in relation to your own and in relation to the blinds. Aggression with the chip lead is great, but it tends to work a lot more effectively when the other stakes are smaller and/or when the blinds have grown to such a point that the small stakes don't want to risk their tournament life to go head-to-head with you. That is when it is time to turn up the heat.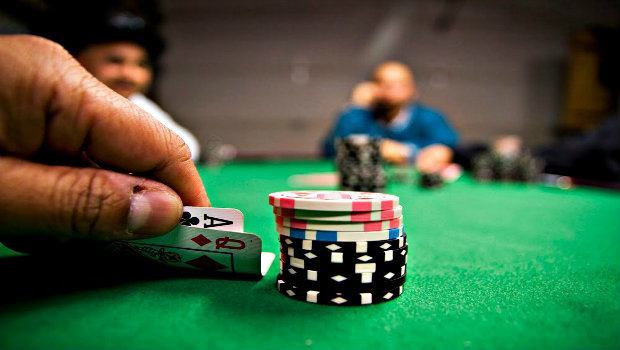 Early Stage Poker Tournament Chip Lead
Unfortunately, the early stages of the tournament are not a time when the chip lead provides that much of an advantage. Unfortunately, during that time the blinds are just not as valuable to pick up, and trying to steal them is a bigger risk than it is worth. It is best to maintain conservative play during the early stages of the tournament because this means that you won't take chances that you know you honestly shouldn't take at all.
Calibrate your aggression to the amount of chips that are out there to be won. You might surprise yourself and stay back when you otherwise would have thought about getting a little more feisty.
Pay Attention To Pay Jumps
Once the tournament is down to just those who will make a cash out, it is important to pay attention to the pay jumps. There can be a big difference between finishing 28th or 27th in many tournaments, but the different between 25th and 22nd may be exactly the same. Notice the pay jumps because it can pay to get aggressive right before the pay is about to jump again. It is in those moments that there is real money to be made.
Always remember that just because you are the chip leader now does not mean that you will remain that way forever. It is easy to fall down the ladder in poker, and you should be mindful of that. Use aggression when it makes sense, but don't get reckless with your lead.
The only chip lead that really matters is the one that happens at the end of the tournament. If you are not still king of the pile at the end of the tournament, then your chip leader status is largely irrelevant. You need to remember that and set your strategy up just right.
Watch this space for updates in the Gaming category on Running Wolf's Rant.