Divan  "Bloedskande" Paxton is an easy going dude who smokes crack and does all sorts of stupid shit. Well, not really, I was just kidding about that.
He actually just loves music from when he was just sperm. He grew up in Kempton Park (unfortunately) but migrated from the East Rand to study economics at Tuks. He was in Olienhout for 3 years, something that he describes as "the best time of his life" basically because it was just 3 years of drinking as much as he can.
Divan loves tattoos, he can't get enough. The art is so amazing, so yeah, he has a shit load of tattoos. He is also a huge DC comics fan, especially of Batman (because he is The goddamn Batman). He also loves extreme sports and has basically done everything. His biggest passion is obviously The Grind Radio because according to him, it fucking ROCKS (and I concur).
I recently had a little chat with Divan "Bloedskande" Paxton. This what he had to say…
So, Divan what do you like about music?
Music is to me what food is to obese people. I can't live without it. It fills my soul with joy. It makes you connect  with your feelings. Some songs make you happy while others will make you angry and just want to give society the middle finger.
Which 5 local bands are your favorite to watch live and why?
The Narrow, because God bless the narrow. Taxi Violence, because they are just insane and always put on a good show. Van Coke Kartel because who doesn't want to see them live? Seether because fuck you that's why. Newtown Knife gang because they have so much passion for music and you can see when they're performing on stage.
Which 5 artists are on your list of the 5 worst artists of all time and why?
Kiss – Because they are over-rated. Crazy Town – Do they even exist more? AC/DC- Just can't get to like them. 30 Seconds to Mars – they were awesome, but now it's just weird shit. Cold Play – Just because… Ah well, fuck them.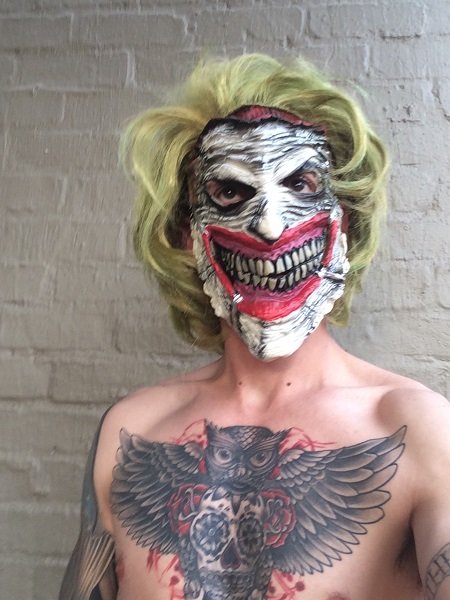 What do you think of the state of SA Music at the moment?
The state of SA music is in a good place I think. Every weekend there are shows, festivals and all that jazz. South Africans love local rock if you ask me – there's just not enough exposure for upcoming bands. They need to be promoted more like we do for local bands on The Grind Radio.
Which 5 international acts would you like to see live in South Africa and why?
I have seen a lot of international acts. Pearl Jam – Because they are the best band ever. Slipknot – Because it is Slipknot. I would  also love to see Biffy Clyro again. Of Mice and Men – Because they are just amazing live. Incubus – because they have one of the most talented song writers (in my opinion).
Where does the whole "Bloedskande" thing come from?
Jaun Venter and I  always give each other shit names and unfortunately this one stuck.
When can people listen to you on the Grind Radio?
You can tune in on Fridays from 7 PM to 9 PM for the one and only Tonteldoos.
I would like to take this opportunity to thank Divan "Bloedskande" Paxton for taking time for this interview. You can follow him on Twitter via @dcpaxton09.
Watch this space for regular updates in the Interviews and Music categories on Running Wolf's Rant.