On the 30th of September Turning Tricks Entertainment hosted another amazing Krank'd Up Fest. The team was a man short on the night, due to Wayne Boucher attending Euroblast to front the epic Deity's Muse, but despite this Duncan, Spencer and the rest of the team pulled off an epic fest headlined by Intervals and Memphis May Fire.
I've had the genuine pleasure of attending many fests as a fan, journalist, musician, roadie and a performer, and I must admit that, regardless of the role that you play in these fests, the best thing you can do is go and make the most of an epic situation.
I love music and I figured that a review at one of my favourite music fests hosting some of my favourite bands would result in a biased review, so naturally I invited Jax, my fiancée and partner-in-crime (sometimes literally), by constantly repeating the words "Memphis May Fire" in various levels of excitement, to which she replied, "You might as well be talking about Luke Skywalker again. Is this going to be like that Rogue Nation Star Wars thing? Am I going to be bored? Will there be somewhere for me to nap?" Balanced review it is! Ahoy!
The Fest
The fest was held at Sundowners, a historic southern stomping ground, in Alberton, on the corner of Kliprivier and Swartkoppies drive. Go to this venue if you want some good drinks, good food and generally good times. Just remember that it is in the South. You will get a klap if you're a poephol. Which is why the Sundowners crowd prioritizes not being full of poephols. Cool, hey?
Parking was epic. Big and spacious. Easy to get in. Easy to get out. Just like your mom. Toilets were, you know, fest toilets. They start off clean but end up really dirty and scary.
Just like your mom. Jacqui's review of the toilets: "I swear some chick's ass exploded in there, but the conversation with the drunk chicks in the queue made up for it. There were also only two flushing toilets inside. We laughed at a few of going of the girls going to the guys' toilets."
Bar and Brewskies
Sunnies modified their inside bar a bit to make sure that the maximum amount of party juice was acquired. The line didn't take long and the drinks were reasonably priced. If the line did take long, it was because it was so easy to get distracted by the rugby and epic pub talk. Many of the dudes in line cracked some epic jokes and played pranks on each other. I was in tears, laughing so hard. The outside bar was also adequately filled with some brewskies and festival chatter, and the wafting, waving smell of epic food. Local dude's review of the bar: "This brandy tastes like I want some more."
The Food and Vendors
I don't know how it happened, but the view of the main stage from the line for Chip 'n Dip was amazing. It was like magic, and magic tastes so good with cheese sauce. Smooth moves there Turning Tricks dudes. I see you. We were lucky enough to bump into my band mate, and his fair lady, when they grabbed some smoked pork from one of the vendors. I was told it was awesome. Jax advised me, "Don't eat this. It is too spicy for you and it will burn your rectum." Rectum saved
We also had the pleasure of bumping into Charlie Swan of The Kulcha Kollective. Jax spent time visiting with Charlie and saying, "Ooooh, this is pretty" while gathering additions to her already big collection of unique, pretty, nerd stuff. Go checkout the online store at www.kulchakollektive.co.za
Jaqui's review of the food and vendors: How pretty is this bangle? Did you see my epic "Even muggles need snuggles" shirt? Charlie is so cool, she even gave me Deadpool earrings!"
The Drama
Fortunately, this is not as dramatic as Black Coffee slapping AKA's manager. That was pretty awesome, see it here. On the morning of Krank'd Up, while social media was awash with people posting excited messages, Maximum Carnage announced on their FB that they will not be able to make their show as they are splitting ways as a band.
Now, I've been in bands with complete douchebags and Avril Lavigne wannabes but there is still a point of pride in playing that farewell gig, especially one headlined by an internationally recognised metal band.
The post was responded with sadness and fans begging and pleading, which is all the more reason to play the last gig. Personally, I call bullshit, and I welcome a chat with Wouter to find out what happened. The fans deserve to know. Jax input: "Maximum Carnage? Is that the band with the guy with the long beard?"
The Local Bands
Remember when bands made an effort to get those big, overpriced, back drop thing? The big thing they hung up with string and bubble-gum at the back? I miss those things. It's awesome to see a band's name on stage so that you know whose music you are enjoying.
So many local bands have amazing talent. I thoroughly enjoyed Deadline (@deadlineq9_band), hailing from Pretoria. Great stage presence and quality metal. I didn't understand the whole chains thing but hey, it goes with the leather. De Wallen (@DeWallenBand) had an amazing energy and had a good few dudes in the crowd singing along.
albinobeach (@albinobeach), performed amazingly, and that PRS…so pretty. Ambient instrumental music with a bit of distortion here and there. Jax review: "That guy looks like our friend, Sean."
I also had the pleasure of catching a few minutes of Mezzanine Floor (@MezzBand), who graced us all the way from Port Elizabeth. Their show was pretty epic and so were their beards.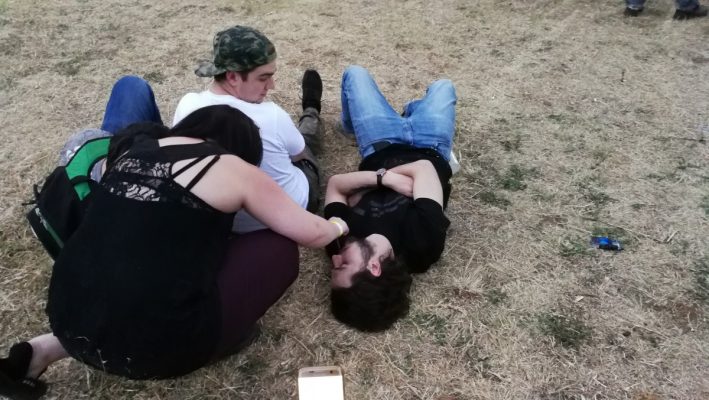 Then up came Vulvodynia. The crowd knew this because they just came pouring in. So many black T-shirts, so many fishnet stockings. So much excitement in the crowd. I was also excited to watch these guys. A super group with band mates from all over South Africa? Yes please! The drummer's limbs were all possessed by demons. Bassist doing that thing with all the thumbs. Guitarists jumping on the monitors. Vocalist scaring children. It was beautiful. If death metal is your kind of thing. Random girl in crowd: "Did he just say "forced faecal ingestion?" Yes he did
Jax: "I just don't enjoy this kind of music, but it is awesome to see the Fuzigish drummer having so much fun in a different band. He does look like he is concentrating hard though."
Ohgod were up next on main stage. An epic instrumental prog band hailing from Cape Town. I thoroughly enjoyed their show. Great dudes. Great energy. Great solos. Well written music, with a few random key changes to keep it interesting. Jax review: "Yeah, they're good but they would be epic with a singer."
Red Helen(@RedHelenBand) were up next. I'm a fan of this band as I've seen them grow a lot over the years. With Erick and Matt jamming in the hardcore legend group Truth and its Burden, and Brandon just being a genuinely epic dude, I was keen to watch their show. They jammed a few songs. Erick's hand looked like a giant spider running around on his guitar and Brandon bellowed his vocals all the way to Free-State, and even when the rain started, the band didn't drop in energy.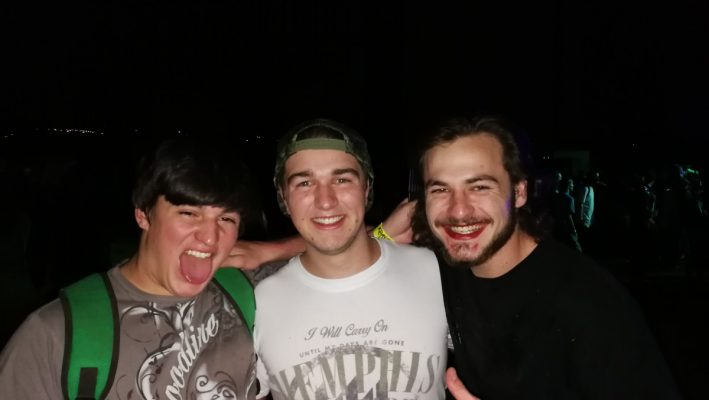 The fest had two stages. The Hunters Stage inside and the Monster Energy Main Stage outside. The sound techs did a great job of making sure that neither stage drowned out the sound of the other. Unfortunately when the rain started, there must've been a technical issue because the main stage went dark and people were climbing all kinds of things.
As the crowd all ran inside to get dry and warm and grab some fresh brewskies. I ran to the car to get my lady a hoody. That rain was cold dude. Loads of people didn't want to bare the cold so they left. The car park was extremely wet now, and full of random men (Just like your mom). After a while. The main stage was lit up and we were ready for the headliners.
The Headliners
Intervals were up first. An amazing, instrumental, jazz fusion band, hailing from Canada. Which means that they are amazing musicians, playing complex but catchy tunes.
I was in awe. I had to remind myself to close my mouth. They were so tight. So energetic. They were so physically excited to play to us. It was awesome. So rarely do we get international acts, but an international act excited to see us?
The pulled of some of the best live instrument work I have ever seen and they handled the technical issues pretty well.
Jax: Every song sounds the same and it's boring, but hey, there's an epic green guitar which is nice.
Memphis May Fire were up next, and they were incredible. There were a few technical difficulties The difference between an international and local band is so huge, and I know our guys will get there. Memphis killed the stage and just boomed us all into next century. Playing old and new songs. I'm going to keep this review short, because if you wanted the experience, you should've been there. Jax review: "The guy on the left is super cute." I really liked this band.
The singer has a pretty obvious routine with his stage presence but he sings really well. Reminds me a lot of the Chester from Linkin Park. He really gets the crowd going and the slow songs are really awesome. The bassist looks like a Doors bouncer.
Did you check the dude tripping on acid? He hasn't blinked in like 5 minutes!
Krank'd Up 2017 was great. Turning Tricks made an effort to host quality bands and present them to an eager crowd with top-notch sound. Getting out of parking was a breeze. We felt safe. I missed watching Deity's Muse but stupid Europe had to book them. Stupid Europe.
Watch this space for regular updates in the Opinion and Music categories on Running Wolf's Rant.