By the end of last year, there were more than 26 billion IoT (Internet of Things) devices in the world. Smart speakers, without a doubt dominated the market, with manufacturers racing each other to bring even more innovation into this lucrative business.
Some of the youngest companies brought the freshest ideas to the table, creating evergreen devices we'll be seeing for a long time.
But, picking the best of these devices isn't all about IoT statistics and numbers. While a lot of the devices currently on the market do similar things, some are simply better than others. They offer better connectivity or an interesting way to integrate into our homes, so we prefer them over the competition.
To cut to the chase, here is a list of IoT devices that were the most sought after last year:
1. Amazon Echo Plus
There's no doubt that Amazon's line of Echo devices paved the way for the smart speaker market. It was the first of its kind to find a place in millions of homes and it remains the number one IoT device we all want to play around with.
So, what does the device give you? A high-end system of home computing packed in a sleek-looking case, 360-degree audio, plenty of integrated microphones, and an easy-to-set-up wireless connection. Echo Plus neatly integrates with smart homes, connecting to other smart devices you might have in your home, creating a hub of sorts. Of course, you can talk with this device, get it to play music, join you as a player in certain board games, as well as organize tasks.
2. Nest Learning Thermostat
Coming home from a hot day outside to a cooled-off apartment is just a joy. That's why thermostats from Nest have found such great reception among IoT fans.
These little devices don't come cheap, but they're quite versatile and reliable. Since they connect to the internet, you can get a quick glance through a mobile app about temperature in your home and, of course, set your thermostat to regulate the temperature. Another neat trick is hidden in its name, as Nest has integrated AI technology in these devices, so they learn your weekly routine and adapt the heating and cooling to your lifestyle. That also means reduced energy consumption and, in the long run, smaller electricity bills.
3. Google Home
The Second most popular smart speaker comes from Google. The company behind some of the most popular tech in the world has given Amazon a run for its money with its line of smart devices, most notable being Google Assistant-powered Home speakers.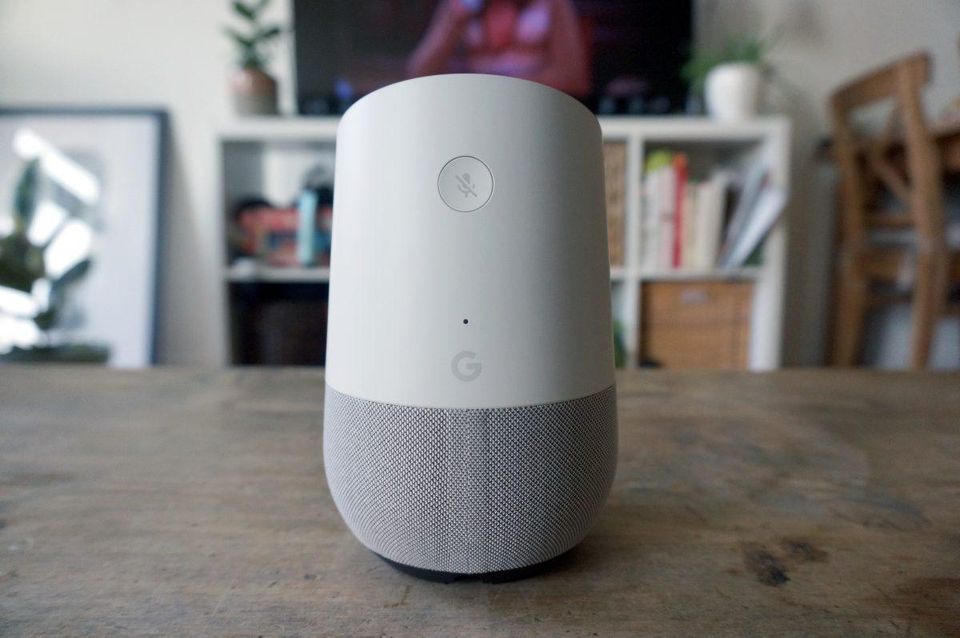 Just like the Amazon Echo, the Google Home has a sleek design, fit for any modern home. Google has also really nailed the voice for this device, making it sound more human and pleasant than the competition. As for the features, it nearly matches everything the Amazon Echo can do, with an emphasis on interconnectivity with your appliances and scheduling tasks.
When it comes to simple audio reproduction, Google has an ace up its sleeve thanks to its own music service and cloud storage for your own mp3 files. Playing and storing mp3 files is a completely free service.
4. August Smart Lock
Home security is not a laughing matter. Engineers from August are well aware of it, and have therefore come up with the Smart Lock, an easy to use door lock management device. With this little gizmo, you can forget about lugging your keys around.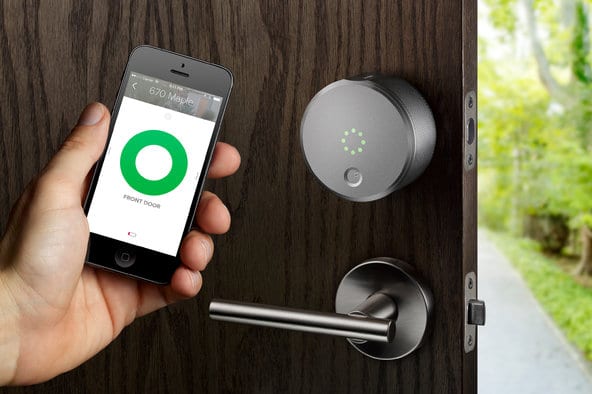 The key feature (ha!) of this lock is how it uses digital keys. These can be generated in unlimited quantities and managed individually, including the time limits and expiration dates, which is great when you have guests around for an Airbnb. Even more, you can get a log file of all the people that entered and left your house during a set period of time and the lock can also send you a notification in case the door wasn't closed properly. Installation is easy and the unlocking process requires just walking toward the door. A pretty neat gadget.
5. Flow Air Pollution Monitor
A harsh reality of the modern world, air pollution, isn't something to be taken lightly. The air we breathe in might not "feel" bad, but numerous microscopic particles it may contain can cause harm to our lungs. Air pollution can even shorten our lifespan by two years. That's why it's good to know if the air is polluted before going out for a jog.
Plume has therefore created a tiny device that fits in your pocket. With the Flow air pollution monitor, you can quickly check how fresh the air around you is. Made out of stainless steel, the monitor is incredibly durable and can be strapped to your bag or bike, becoming your travel companion. It measures several air-quality factors, sending the data straight to the app on your phone, finally giving a daily breakdown of your route, showing if (and how much) the air was polluted. The device has won several prestigious awards and Plume has already created a new and improved Flow 2 model.
Bottom line
In conclusion, there is a wide variety of popular IoT gadgets out there today. Smart speakers are, of course, still the hottest commodity around, but an increasing number of consumers are becoming aware of home security and creating healthier habits. 
For 2020, the trends are just being set up. It is safe to assume the aforementioned devices will continue to have a good run this year, with even more similar ones to come. The IoT industry is growing, new frontiers are just being discovered, and production is becoming cheaper and cleaner. This all, in turn, is good for us, the consumers, as we'll be able to afford even more smart devices for our homes in the future.
Watch this space for updates in the Technology category on Running Wolf's Rant.