Since the early days of cinema, filmmakers have often tackled difficult subject matter that mirrors society's issues. One of those subjects is the lives of refugees, or those individuals displaced by internal conflict in their home country.
While some of the most famous on-screen refugees are those fleeing the Nazi regime in Europe in the 1940s, as exemplified in the classic Academy Award-winning Casablanca, displacement is a worldwide problem.
According to the United Nations, "the world is witnessing the highest levels of displacement on record." As of 2018, nearly 71 million people have been forced to flee their homes due to conflict and/or persecution. Of those displaced individuals, 30 million are considered refugees, the UN further reports.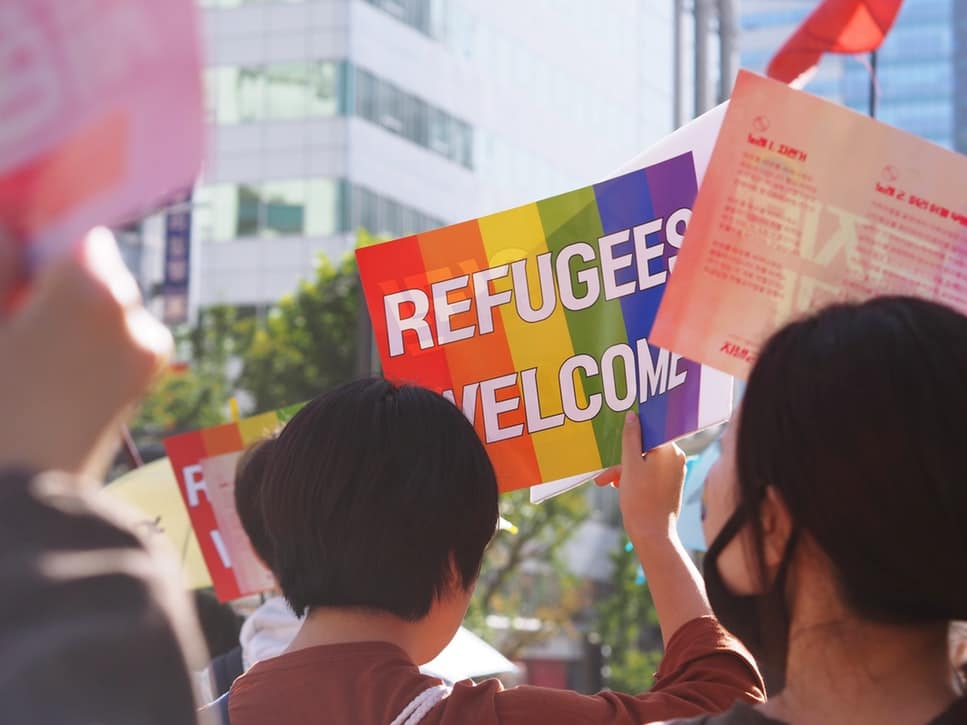 Yet their stories are rarely told by filmmakers, especially in Hollywood. The unfortunate truth is that stories of refugees can make average cinema-goers feel uncomfortable. When refugees are depicted on film, they tend to be portrayed as either victims or villains, such as the persecuted refugees in 2006's post-apocalyptic Children of Men.
Despite the victimization of their on-screen counterparts, the majority of real-life refugees embrace their new life. They secure jobs and raise their family in their newfound home.
The Plight of Refugees in America
The global refugee crisis is especially relevant in the USA. The Trump administration continues to turn away those seeking asylum.
Since the Refugee Act was passed in 1980, the U.S. has welcomed about 30,000 asylum seekers annually. For the past two years, however, the U.S. has seen its lowest refugee admission rates since the advent of the modern system. Only 22,491 refugees were admitted into the U.S. in fiscal year 2018.
Critics of Trump's refugee policies believe that lower U.S. admission rates could cause other countries to lower their resettlement numbers. Lower refugee admissions could impact more than just human rights. Refugees often help boost local economies, and even create jobs.
In fact, 13% of refugees are business owners, compared to only 9% of American-born residents. The number of self-employed refugees keeps climbing. The 19.5% of foreign-born, self-employed workers in 2015 is more than double the 8.6% rate reported in 1994.
But are there films or television shows that depict entrepreneurial refugees? In fact, they're few and far between, and some even perpetuate the idea of refugees as criminals. The is evident if you look at the The Godfather series. The trio of films tell the story of Don Vito Corleone and his family. They become mafia kingpins following their immigration to America.
Complexities of the Modern Refugee Crisis
Along with the possibility of being separated from their family or experiencing persecution in their new country, refugees as a whole face a number of challenges. For example, CNBC reports that inadequate refugee policies help fuel the illegal human trafficking and smuggling industries. In 2016 alone, an estimated 2.5 million refugees worldwide were smuggled across borders.
Human trafficking is another glaring problem among refugee populations. Duquesne University describes human trafficking as, "a form of modern slavery where force, coercion, or fraud is used to obtain labor, marriage, or commercial sex acts." Young people, especially girls, are among the most vulnerable within the estimated $150 billion industry.
In fact, 75% of human trafficking victims are female. Developed countries such as the USA continue to limit the number of legal refugees. This means that more and more people are at risk of being sold into modern slavery or forced to perform illegal acts. Inadequate refugee policies may lead desperate asylum seekers to do whatever it takes in order to flee their home country.
One heartbreaking film that touches on the illegal channels that refugees may get involved in is Dirty Pretty Things. The film was released in 2003 and is set in London. A Nigerian immigrant uncovers a black market organ-harvesting enterprise at the hotel where he works. In the film, those seeking asylum can trade their kidneys or other organs for a passport.
How Streaming is Improving Diversity in Film Production
In recent years, streaming services have become one of the most popular avenues of media consumption. While some film critics claim that streaming services are killing off the television industry, platforms such as Netflix and Hulu are allowing for more diverse stories to be told. Thanks to these streaming services, more diverse voices are being represented. More stories about minorities, including refugees, are getting made.
Netflix has 139 million paid subscribers worldwide, even adding a record number of new subscribers in the first quarter of 2019. Those millions of viewers are attracted to Netflix's offerings, especially the platform's original films and shows, and the opportunity to binge watch favorite shows.
In addition, streaming platforms allow viewers to stream from virtually any device, including smart TVs, laptops, and smartphones. The caveat of streaming platforms is that a high-speed internet connection is typically required, so viewers in disadvantaged countries and communities may not be able to enjoy these types of services. But streaming services also offer much more variety than basic cable. Having the freedom to choose what to watch, at any given time, is a huge bonus.
If the global refugee crisis continues on its current trajectory, viewers can expect to see more film and TV offerings about asylum seekers. In order to do justice to refugee populations, filmmakers need to create stories without victimization or criminal activities as a subtext.
Watch this space for updates in the Movies category on Running Wolf's Rant.