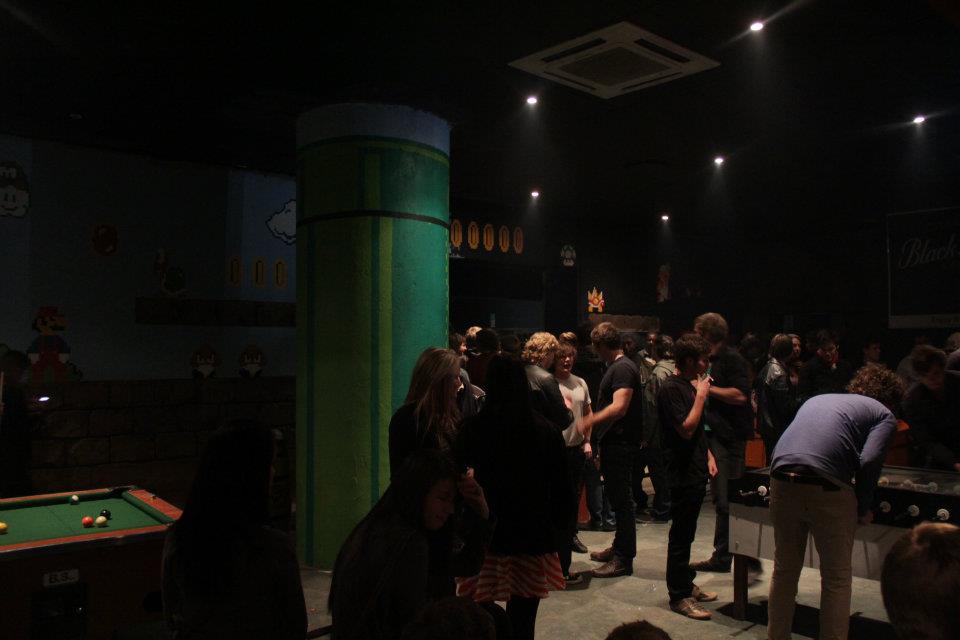 Last week Friday (the 20th of July 2012) I made my way to the new Arcade Empire venue at 265 The Highway Street in Equestria (in Pretoria East) after quite a hectic week at work.
When @BaasDeBeer and I got there at 6 PM the Arcade Empire crew were still working hard to get everything ready for the opening (which was scheduled for 7 PM). None of the bars were stocked yet and all of the lights hadn't been switched on yet, but it wasn't too much of an inconvenience. Most of the patrons passed the time by playing foozball and pool on the brand new tables. Since playing games in clubs or pubs isn't my thing, I played around with my camera and mingled with the Pretoria faithful instead.
By 7:30 PM everything was running smoothly and patrons could finally get drinks. By 8 PM the new Arcade Empire venue was chock-a-block full, but I was still able to move around free in the venue. Despite the bar queue (which was a bit of an issue for some people) I was able to move around freely and unobstructed for pretty much most of the evening. It was good bumping into the regulars and friends.
For those of you who did not know, this new Arcade Empire venue is a lot bigger than the old one (which used to be in Hans Strijdom Road at the Old Foundry Fly Lounge). The new Arcade Empire can comfortably accommodate about 1400 people. Besides this it also 3 bars and 2 outside decks – a lot more space than the old venue.
I am particularly impressed with the décor in the venue. It must be the only live music venue / restaurant / pub in South Africa that has a Super Mario Bros mural. How awesome is that? The Arcade Empire crew had a lot of volunteers helping them to get the venue ready for 2-3 weeks prior to the new venue's opening date. One could see that a lot of effort went into getting the venue ready.
Finally the bands started playing at 8:30PM. Thanks to better acoustics, a rubber floor and an improved PA system the sound is a lot better than the old venue's sound. It doesn't sound scratchy or canny at all. I felt the bass on my chest (despite the fact that I was watching bands and not at a dance party) – something that did not really happen at the old venue.
Wrestlerish, Isochronous, Taxi Violence and Van Coke Kartel did not disappoint the amped up Pretoria crowd at all. In fact, it was one of the most intense shows that I've ever been to inside a venue. Luckily the bar queues eased a bit after the last act on the evening and I was able to relax after such a hectic gig.
The next day the Twitterverse was abuzz with compliments and complaints about the new venue. The overall reaction was positive. The opening party was a huge success, despite some minor hiccups.  Most folks were just glad that Arcade Empire was back. It was almost as if they had been missing a member of their family for 3-4 weeks.
Some folks were complaining about some of the toilets not having doors, the bar queues, bars running out of beer and that some aspects of the décor and lighting had not being finished yet. Some of them had concerns about the concrete and steel pipe barrier that saw its arse during the Taxi Violence and Van Coke Kartel sets on the evening – yes, that happened on Friday night folks, Arcadians love their live music.
These complaints and comments are reasonable. But one has to see things from Arcade Empire's perspective as well. It's absolutely amazing that the Arcade Empire crew got the venue ready to a level that could handle the amount of people there were on Friday in less than 3 weeks. Pretty damn impressive if you ask me.
I have to admit that the venue still needs some work, but I'm confident that the Arcade Empire crew are already on it. I'm pretty sure that Robert, Chris, Christo and the rest of the crew will be addressing these issues in the weeks to come. If everything is finally as it should be it the new Arcade Empire venue is bound to live up to its name once again as "The Best Live Music Venue in Gauteng". There is no venue like this in Johannesburg that I'm aware of.
If you're looking for something to do this weekend, check out Tidal Waves and Aidan Martin on Friday or Lark (who are launching their new album) on Saturday at Arcade Empire. Follow @ArcadeEmpire on Twitter or join Arcade Empire on Facebook for regular updates about upcoming gigs.
Watch this space for regular updates in the Opinion, Music and Events category on Running Wolf's Rant.