I've experienced tons of live music performances over the years. I fell in love with it in the late 1990s. Sadly I have not been to any festivals abroad, but I've experienced plenty of great of performances in South Africa. I'm definitely not complaining.
Today I'm featuring 6 notable great live music performances. If you love going to concerts or festivals, I'm pretty sure that you'll enjoy reading about this and watching some videos. I'm done beating around the bush, so let's get into it…
Linkin Park at Rock Am Ring in 2004
Rock Am Ring is a massive rock music festival in Germany. It's held on the Nurburgring (a massive racetrack where the German F1 Grand Prix has been hosted). The festival attracts about 70,000 music lovers every year.
By 2004 Linkin Park had a massive army of fans. They had become popular thanks to the success of Hybrid Theory and Meteora. The band was bustling with energy and they amazing set at Rock Am Ring in 2004. I'm not a massive fan, but I have to say that I'm sad that I missed them when they came to South Africa. The video below shows why I'm sad…
The Queen performance at Live Aid in 1985
By 1985 legendary British rock band Queen had a global army of loyal fans. They were one of the acts who performed at Live Aid (which was organized by Bob Geldof to raise funds for relief of the Etophian famine in Africa).\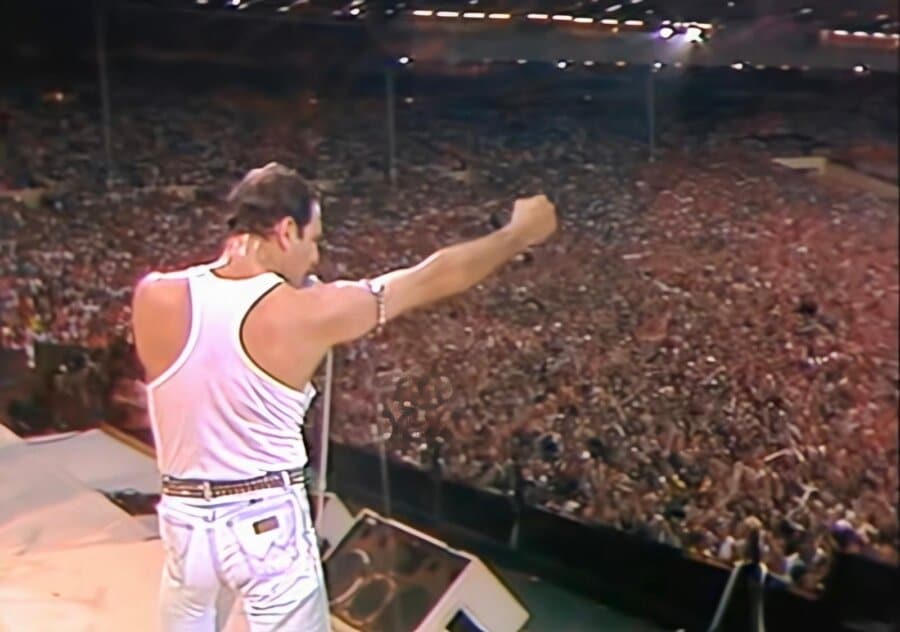 The UK leg of the concert was held at Wembley Stadium (which also hosted the FIFA World Cup Final in 1966). 72,000 people attended the concert (which also featured performances by U2, David Bowie, The Who and Paul McCartney).
Queen's performance at this concert has been rated by many as the best live rock performance of all time. Watch the video below to find out why…
Pearl Jam at Pinkpop Festival in 1992
American Grunge Rockers Pearl Jam played an amazing set at Pinkpop Festival in the Netherlands in 1992. At the time it was the biggest crowd that the band had performed in front of. 55,000 people watched Eddie Vedder and his band.
During Pearl Jam's performance Eddie Vedder climbed up very high on the stage rig and dived into the crowd. The band played almost every song on their debut album Ten. This band has not made their way to South Africa yet, but I definitely want to see them live. Watch the video below to find out why…
Joe Cocker at Woodstock in 1969
On the 17th of August 1969 English singer Joe Cocker performed with The Grease Band at Woodstock. More than 400,000 people attended this festival (which was held on a 600 acre farm in upstate New York in the USA).
I have to admit that Jimi Hendrix performance at Woodstock also looks great, but I love the Joe Cocker performance a lot more thanks to his cover of The Beatles song "With a little help from my friends". This version of the song was popularized by the 1988 TV show The Wonder Years. This has to be one of the best live music performances of all time.
Shakira at the FIFA World Cup Concert in South Africa in 2010:
I have to admit that I'm not a huge fan of Shakira, but she put on one hell of a show at the FIFA World Cup Concert in South Africa at Orlando Stadium in Soweto in 2010. Biggest television networks in the world, most recognized sport and merchandising brands, and millions of fans around the world witnessed an unforgettable concert.
According to South Africa betting houses, five teams were the favourites to win the tournament: Brazil, Argentina, Germany, Italy and Spain, being these last ones the lucky ones to lift this prestigious cup.
Alicia Keys, The Black Eyed Peas, The Parlotones and a few other artists performed at the concert, but this was the best performance on the night in my books. If you don't believe me, check out the video below:
Green Day at Reading Festival in 2013
Reading Festival should be on my bucket list. In 2013 American Punk Rockers Green Day were one of the headliners. That year's edition also featured performances by Biffy Clyro (who blew me away at RAMFest in 2014), Eminem, Linkin Park and System of a down.
Green Day played their groundbreaking album Dookie from start to finish during their set. The band also sparked mass-singalongs when they played "Holiday", "Boulevard of Broken Dreams" and "When September Ends". Check out the video below to see some of what went down…
Well, there you have it, 6 great notable live music performances of all time. Do you agree with my list? Which performances stand out above these ones for you? Leave a comment below and let me know. Include a link to the YouTube clip in your comment so I can check it out.
Watch this space for regular updates in the Music category on Running Wolf's Rant.