How popular is online gambling in South Africa? Is it more popular than people think it is or not?
Let's face it, it's a well-known fact that South Africans love their sports. The most popular sports in South Africa are rugby, cricket, and more importantly football (or soccer).
Football (or soccer) is undoubtedly the most loved sport amongst South Africans. The country still has a long way to go, but South Africans follow it very closely.
South Africa managed to win the African Cup of Nations on home turf in 1996 (after having failed to even qualify for the previous cup). This is one very proud moment for South Africans who cherish it till this day.
South Africans enjoy watching matches too. Last year, a survey conducted by marketing company DCMN, estimated that 86% of South Africans planned to watch the World Cup, or at least some of the matches, which is an impressive increase compared to the figures of the previous World Cup held back in 2014.
Although, in a way, this figure can be explained as it is thought to be reflective of the fact that the previous World Cup was held in Brazil, which meant that there was a five-hour time difference, contrary to the last World Cup, which was held in Russia, with just a one-hour time difference. Many believe this is at least one of the reasons behind the smaller number of viewership that year.
The survey, which included five countries in all; South Africa, Germany, France, the UK, and US, revealed that South Africa and the UK both ranked second in terms of estimated viewership, with 86%, whilst Germany ranked first with 91% of people estimated to watch the matches.
The country with the least interest in watching the games was the USA, which doesn't come as a surprise since soccer isn't exactly the country's favourite sport.
From the love of sport to the love of gambling
As one would imagine, this kind of fanaticism brings with it a love for betting. Many South Africans like to bet on their favorite football team or other sports. This seems to be especially the case amongst millennials.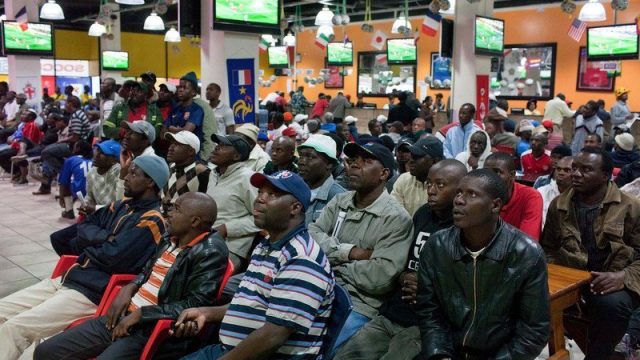 Contrary to what most people might think, women enjoy watching and betting on sports just as much as the men do. In fact, according to the above-mentioned survey, it was estimated that ninety-three percent of South African men would be watching the games, whilst 79% of South African women said that they would also be watching some of the matches.
Casinos (an even bigger sector in the world of gambling) is taking over South Africa and other African countries though.
Sports Betting vs. Online Casino Gambling
Online casino gambling has been on the increase in the last couple of years. Nowadays it makes up most of the South African gambling market.
According to PwC.co.za: "Casinos are by far the largest component of the gambling market with casino gross gambling revenues accounting for 72% of total gross gambling revenues in 2014, down from 76% in 2013, reflecting the maturation of this segment of the market.
Currently, a total of 38 out of 40 possible casinos are in operation. On 31 October 2015, the Department of Trade and Industry gave notice of intention to increase the set number of maximum casino licenses that may be granted throughout South Africa from 40 to 41."
Unfortunately illegal gambling and scam casino sites exist. This is why players (especially the younger generation) are encouraged to do their research. Players should make sure they are playing at ZAR friendly websites that are licensed and regulated. You can choose the right one with Roulette77.
Players also need to learn how to spot rogue casinos and learn how to take precautions against addiction. They should also be able to detect signs of addiction. All of this can be done by consulting an online casino guide.
"Casinos face growing competition from other forms of legal gambling such as electronic bingo terminals, limited payout machines, sports betting outlets as well as from the increase in illegal online gambling.
Casino gross gambling revenue is projected to rise to R19.2 billion in 2019 from R17.2 billion in 2014, a 2.2% compound annual increase" PwC
The reason behind the rise in online gambling
So, how did the popularity of online gambling increase in South Africa?
We all know gambling's been around for a long time and has been a universal past time. It would make sense that gambling would increase after the invention of the internet.
The internet also been around for quite some time now and online casinos have existed since. So, what are the factors behind the increasing numbers?
The answer is very simple. It's all thanks to another form of technology that has taken over our lives: the mobile phone. Research has shown that online gambling is increasing in proportion to the increasing use of mobile phones.
Online gambling is expected to keep on growing. Therefor, good measures need to be taken in order to ensure that the country does something about illegal gambling.
Watch this space for updates in the Opinion category on Running Wolf's Rant.