The 24th edition of Oppikoppi festival is happening this year in August on that infamous farm near Northam in the Limpopo province of South Africa.
Oppikoppi festival has a rich history and it's regarded as one of the top music festivals in South Africa. I'll be attending my 20th Oppikoppi this year and there are so many things I can tell you about it, so I'm not going to beat around the bush. Here are 101 Interesting Oppikoppi festival Facts and Funny Stories…
Oppikoppi festival had humble beginnings…
1. The first Oppikoppi band weekend was held in May 1994.
2. Koos Kombuis and Valiant Swart were on the line-up for the first Oppikoppi band weekend. Tickets cost only R30 and +/- 300 people attended.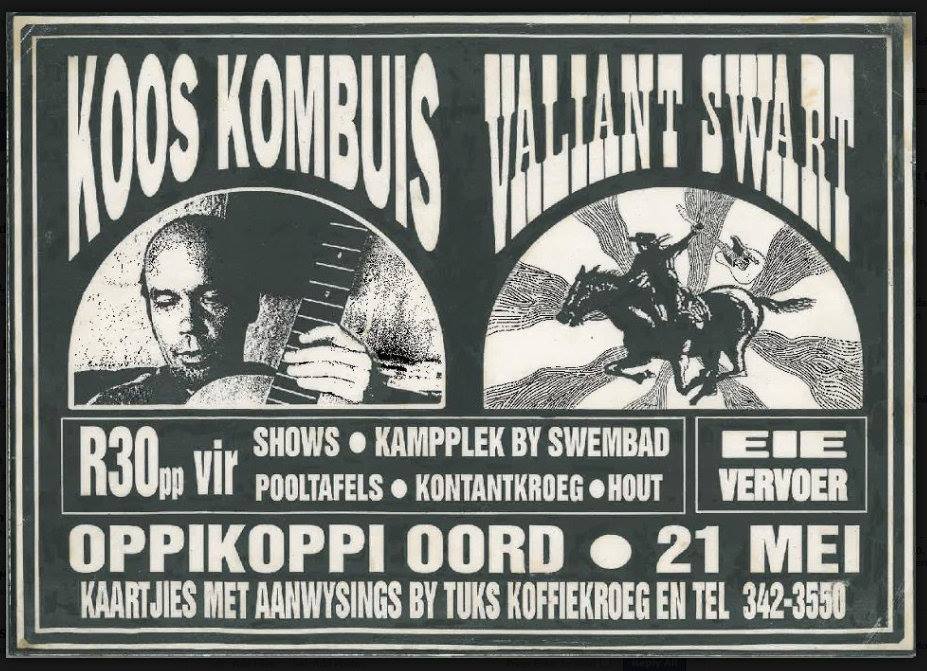 3. The first actual festival was held in 1995 and called "Oppikoppi Festival of Rock". Koos Kombuis, Valiant Swart, Squeal, Sugardrive, Jack Hammer, Battery 9, Urban Creep and 20 other South African acts were on the line-up. +/- 2000 people attended.
4. The second edition of the festival (which was held in 1996 and was billed as the 2nd annual festival of rock) featured Squeal, Wendy Oldfield and others.
5. The 1997 edition of the festival was called "One Big Bang". This edition featured 60+ bands on 3 different stages. Valiant Swart, Squeal and Battery 9 were part of the line-up.
6. A youngster committed suicide at the festival in 1997. He hung himself on a tree.
7. The 1998 edition's theme was "Bushveld Blast". In that year, it was the first time that more than 10,000 people attended the festival.
8. "Bushveld Blast" was my first Oppikoppi experience. This edition featured performances by Springbok Nude Girls, Wonderboom, David Kramer, Sugardrive, Boo!, Koos Kombuis, Piet Botha, Van Der Want & Letcher and a whole list of others.
Once upon a time I got free beer at Oppikoppi festival…
9. At my first Oppikoppi we ran out of beer, so we decided to make a "roadblock" with chevron tape on the road where we camped. We stopped people (who were driving around the festival the whole time that year) and asked them who their favourite bands were. If we didn't like the band we asked for a beer. If we liked the band we asked for a beer. We gathered about 2 cases of beer in less than an hour.
10. Someone tried to sell a gravel rock that they picked up in front of one of the stages for R10 to buy a beer at Oppikoppi festival in 1998.
11. Koos Kombuis played two sets at "Bushveld Blast" – 1 acoustic set and 1 loud set with his band (Die Warmblankes). I think this was the 2nd and 3rd time that I watched him live. I watched my first Koos Kombuis show at Navigators Ladies Bar in Pretoria in 1996.
12. The 1999 edition's theme was "Infestation" and featured Vusi Mahlasela, Boo!, The Awakening, Koos Kombuis, Gert Vlok Nel, Valiant Swart, Sugardrive, Zim Ngqawana, Buckfever Underground, Brasse Vannie Kaap and others.
13. The 2000 edition's theme was "Trek 2000" and featured Soulwax, Zita Swoon and other artists.
Oppikoppi Festival wasn't always held on the farm near Northam…
14. The 2001 and 2002 editions of the festival was held at the Fountains Valley Picnic area in Pretoria.
15. The 2001 edition's theme was "Tuned" and featured Hooverphonic (from Belgium), Max Normal, Karen Zoid, Koos Kombuis, Valiant Swart, Battery 9, Henry Ate, Saron Gas (now known as Seether), Brasse Vannie Kaap, Tweak, Leek, Not My Dog, Frank Opperman, David Kramer, Lucky Dube and others. This was my 2nd Oppikoppi experience.
16. A friend of ours burned her leg at Oppikoppi festival in 2001. She went to the doctor to get treatment and returned to the festival with crutches. We carried her everywhere that weekend and she didn't miss any of the bands she liked.
17. In that same year, my friends pitched a tent that they had found in a cupboard. Much to their surprise, they found out that the tent was fucked, but they pitched it anyway and hung a coconut with the words "Wilson" written on it in the middle of the tent. One of the okes had to sleep in his VW Beetle because it was fucked.
18. I watched my first Max Normal gig at Oppikoppi in 2001. It was in a tent the size of the old Tings N' Times.
19. The 2002 edition's theme was "Plunge" and featured performances by Dutch punk band Heideroosjes, Anton Goosen, Soil 7t7, Ashton Nyte and others. There was a huge blow-up slide that was utilized by many of the drunk folk.
20. My friend Terrence rescued a guy who had passed out in one of the nearly frozen streams at Fountains Valley in 2002. He thought his car was stolen, but the cops showed him where it was parked – he had forgotten where he parked it.
Oppikoppi festival returned to the farm in 2003…
21. The 2003 edition was called "Hond Uit Uit 'n Box". This edition featured 340ml, Beeskraal, Cutting Jade, Dan Patlansky and the Mississippi Muthers, Hog Hoggidy Hog, Jack Hammer, Karen Zoid, Luna, Marlowe, Max Normal, Not My Dog, Pestroy, Plum, Rhütz, Soil 7T7, The Finkelstiens, The Narrow, Tidal Waves, Tumi and the Volume and others.
22. In 2004 Oppikoppi celebrated its 10th birthday. The theme was "Blood is thicker than Soda Water".
23. In 2004 Derick and Fritz put a huge red light on a pole to indicate where our campsite was. People used it as a landmark.
24. The 2004 edition featured Triggerfinger, Freshlyground, Prime Circle, Fokofpolisiekar, Springbok Nude Girls, Boo!, 340ml, Karen Zoid, Jan Blohm, The Narrow, Cutting Jade, Gert Vlok Nel, Valiant Swart, Jan Blohm, Sugardrive, Wonderboom, Battery 9, Kobus!, The Fake Leather Blues Band, Buckfever Underground and others.
25. I watched my first Fokofpolisiekar show at Oppikoppi in 2004. They played on the Bruilof stage and less than 600 people watched their set.
26. In 2004 Karen Zoid played a surprise show with Riku Latti and Andries Bezuidenhout at the top bar stage. They played a few Johannes Kerkorrel covers and a purple-haired guy next to me claimed that people in Klerksdorp didn't know who Riku Latti was.
27. In 2004 my friend Derick played chicken with a Nissan 1400 bakkie while he was wearing a Viking hat. Thank goodness they didn't collide. That was also the year that my friend Charlie decided to have a braai with a one vienna next to the road at 7 AM.
28. The 2005 edition theme was "Wired". This edition featured a great line-up of artists. Prime Circle, Fokofpolisiekar, The Narrow, Valiant Swart, Karen Zoid, Bacchus Nel, Luna, Old Mol and others.
29. At the 2005 edition, we watched the Springboks beat the All Blacks in a rugby test at Oppikoppi. We had running commentary from guys who could see what was happening on the screen (because we couldn't see).
My friends were really evil at Oppikoppi festival in 2005…
30. In 2005 I wanted a sip of my friend's Gluwine, but she refused, saying that I should down a bottle of it / or funnel it. At that exact moment, a guy walked past our campsite with a funnel – I ended up funnelling quite a bit of Gluwein and Jagermeister (thanks to our next door neighbour who had overheard us and started pouring it in).
31. Fokofpolisiekar played 2 sets at Oppikoppi in 2005.
32. The 2006 edition's theme was "Rock, Paper, Scissors" and featured The Parlotones, Fokofpolisiekar, Lark, Goldfish, Malaika, The Narrow and others.
33. In 2006 one of my campmates forgot his tent pens at our campsite. I kept it for him and gave it back to him the next year.
34. In 2006 Fokofpolisiekar colaborated with Lark and a few other artists during their set.
35. The 2007 edition's theme was "The Way Of The Dassie" and featured 3 international acts: Groove Armada, Jimmy Eat World and Violent Femmes.
36. The 2007 edition also featured Harris Tweed, Bed On Bricks, Chris Chameleon, The Dirty Skirts, Foto Na Dans, Fokofpolisiekar, Karen Zoid, Kidofdoom, Koos Kombuis, Lark, Luna, MaxNormal.TV, New Academics, The Parlotones and others.
37. In 2007 we had a feet-licking competition at our campsite. The 2 girls who dared to lick my friend's feet ended up winning R400. Someone else also ate half a raw onion (on a dare) for R250.
38. The 2008 edition's theme was "Wildcard" and featured performances by aKING, Van Coke Kartel, Karen Zoid, Koos Kombuis, Foto Na Dans, Valiant Swart and others.
Oppikoppi festival turned 15 years old in 2009…
39. The 2009 edition of Oppikoppi was named "Smoorverlief" (after a Riku Latti song).
40. Oppikoppi Smoorverlief featured Die Antwoord, Jack Parow, aKING, Die Heuwels Fantasties, Fokofpolisiekar, Zebra & Giraffe, Josie Field, Van Coke Kartel and others.
41. In 2009 my friend Sarah and I got a flat tyre at the festival. We had to pump the tyre up with someone's tyre pump, change it and drive with the spare to Swartklip to patch it. They couldn't patch it – we ended up pumping the tyre constantly on the way back.
42. I watched my first Die Heuwels Fantasties show at Oppikoppi in 2009. It was also the first time that I saw Die Antwoord live. It was also the first Oppikoppi that I reviewed on Running Wolf's Rant.
43. 2009 was the last year that an Oppikoppi Easter Festival was held.
44. 12 Easter editions of Oppikoppi festival was held from 1998 to 2009.
45. The first Easter festival I went to in 2006 ("Haat My Want Ek Vreet My Hasie") will always be my favourite Oppikoppi. Fokofpolisiekar, Tidal Waves, The Narrow, The Parlotones, Ben Lee (from Australia) and a few other artists were on the line-up. I attended 3 Easter editions over the years, but this one was the best.
46. Besides the Easter editions, there were also New Year's Editions of Oppikoppi in 1995, 1996, 1997 and 2003.
47. The 2010 edition of Oppikoppi was called "Sexy. Crooked. Teeth.". It was named after a Willie Nelson song.
48. Oppikoppi Sexy. Crooked. Teeth featured Billy Talent, Philadelphia Grand Jury, Jack Parow, Prime Circle, Die Heuwels Fantasties, Zebra & Giraffe, Van Coke Kartel, Wrestlerish, Straatligkinders, The Narrow and others.
49. In 2010 Albert Frost and Vusi Masilela played a set together and left the majority of the crowd teary-eyed with their version of "Say Africa".
50. In 2010 my friend Sarah and I got lost and ended up looking for our tent for 6 hours on the first night. The Oppikoppi Cowboy rescued us.
51. Valiant Swart was the tribute artist for Oppikoppi 2010.
Sadly The Black Keys have not played at Oppikoppi festival…
52. The 2011 edition of Oppikoppi was "Unknown Brother" (named after a song by The Black Keys).
53. Oppikoppi Unknown Brother featured 2 international acts: Sum 41 and The Used. The Used took almost an hour to soundcheck and they didn't play "The Bird and the Worm".
54. David Kramer was the tribute artist for Oppikoppi 2011. His set was two hours long and featured Francois van Coke, Peach and Jaco from Bittereinder, Jack Parow and a few other guest artists.
55. Bittereinder played their first Oppikoppi Festival in 2011.
56. Die Heuwels Fantasties, Zebra & Giraffe, GoodLuck, Van Coke Kartel, Karen Zoid, Jax Panik, Gazelle, Isochronous, Not My Dog and Wrestlerish also performed at Oppikoppi in 2011.
57. Afrikaans rock act Ef-El played their last show at Oppikoppi in 2011.
58. In 2011 Baas De Beer and I threw away four (or five) camping chairs before we left the festival. Baas also retired his busted pair of Converse high-tops.
59. 2011 was the first year that I took photos in the photo pit at Oppikoppi festival.
60. The festival implemented a cashless card system in 2011.
I missed Taxi Violence's set at Oppikoppi festival in 2012 and I wasn't very happy with myself…
61. The theme for the 2012 edition of Oppikoppi festival was "Sweet Thing".
62. Bullet for My Valentine, Seether, Enter Shikari, Eagles of Death Metal, Diplo, Kongos, Yoav, BLK JKS, 340ml, Knorkator, Buckfever Underground, aKING, Fokofpolisiekar and others played at Oppikoppi in 2012.
63. In 2012 Southern Gypsey Queen played their 15 year anniversary set on the Wesley's Dome Main Stage. Their set featured guest appearances by Jacques Moolman (Shadowclub), David Van Vuuren, Albert Frost and various other artists.
64. Vusi Mahlasela was the tribute artist at the 2012 edition.
65. Shaun Morgan from Seether spoke Afrikaans through the whole of their set at Oppikoppi in 2012.
66. Kongos took very long to soundcheck in 2012 and the band schedule had to be adjusted.
67. More than 32,000 shots of Jose Cuervo were sold at the Oppikoppi bars in 2011. That figure went up to 45,000 in 2012. In 2016 (when Jose Cuervo was sold at the bar again) that number reached more than 100,000. To give you an idea: 32,000 shots of Jose Cuervo is 960 litres. That's a lot of tequila if you ask me…
68. Bullet for My Valentine played a part of the South African national anthem during their set. Besides this, there were also three simultaneous mosh circles in the crowd. Those people kicked up a lot of dust…
69. The 2013 edition's theme was "Bewilderbeast".
70. Oppikoppi Bewilderbeast featured performances by Yellowcard, Deftones, Manchester Orchestra, The Narrow, Finley Quaye, Robert DeLong, Mango Groove, Koos Kombuis, Bittereinder, The Black Cat Bones, Fokofpolisiekar, Matthew Mole, Die Heuwels Fantasties, Jack Parow, Straatligkinders, Shortstraw, Jesse Clegg and others.
71. Koos Kombuis was the tribute artist for Oppikoppi 2013. His set featured guest performances by Francois Van Coke, Andra and a few other artists. This was his last performance at an Oppikoppi festival.
At the 2013 edition of Oppikoppi festival we learned that you should never mess with a lesbian's girlfriend…
72. In 2013 we ended up camping next to shady individuals who were dealing drugs and stealing people's stuff next to our campsite. When one of our lesbian friends suspected that they had stolen her handbag, she confronted them and they shoved her girlfriend into a thorn tree. She ended up chasing them out of the campsite with a spanner and burned down their tent.
73. Mango Groove attracted the biggest crowd ever at the Wesley's Dome Stage in 2013. I'm speaking under correction, but there may have been +/- 23,000 people in front of the stage. It was the first time that many South Africans (including myself) experienced them live.
74. The 2014 edition's theme was "Odyssey". It was also the festival's 20th anniversary.
75. Oppikoppi Odyssey featured performances by Wolfmother, Editors, Aloe Blacc, Willy Mason, Rival Sons, Cat Power, PH Fat, Taxi Violence, The Inspector Cluzo, Man As Machine, Shortstraw, Springbok Nude Girls, aKING, Van Coke Kartel, Wonderboom, Boargazm, Zebra & Giraffe, Hugh Masekela, Dead Lucky, The Fake Leather Blues Band, Urban Creep and others.
76. Hugh Masekela was the tribute artist at Oppikoppi Odyssey.
77. Matthew Mole and Shortstraw attracted massive crowds at the James Philips stage in 2014.
78. The 2015 Oppikoppi theme was "The Fantastic Mr Vos Vos" (a parody of the Roald Dahl's The Fantastic Mr. Fox).
We had one of the biggest campsites at Oppikoppi festival in 2015…
79. More than 100 people camped with us at Oppikoppi in 2015. Our campsite had 4 gazebos, a gas-powered fridge, 6 couches and carpets.
80. Oppikoppi The Fantastic Mr Vos Vos featured performances by Gogol Bordello, Johnny Clegg, Livingston, Brand New, Twin Atlantic, The Parlotones, Al Bairre, Desmond and the Tutus, Francois Van Coke, Karen Zoid, aKING, Satanic Dagga Orgy, Tweak, PH Fat, Southern Wild, The Black Cat Bones, Felix Laband, Shortstraw and others.
81. Johnny Clegg was the tribute artist at Oppikoppi in 2015.
82. More than 15,000 people sang along loudly to "Toe Vind Ek Jou" during Francois van Coke's set at Oppikoppi in 2015 (and it was absolutely amazing).
83. The 2016 edition's theme was "The Lovely Young Taken to the Unsea" (and was inspired by a Gert Vlok Nel tune).
84. Oppikoppi The Lovely Young Taken to the Unsea featured performances by August Burns Red, Yelawolf, KONGOS, Prime Circle, Bittereinder, Boargazm, Jack Parow, Satanic Dagga Orgy, De Wallen, Hellcats, Newtown Knife Gang, Scarlotte Will, Wonderboom, Valiant Swart, Willim Welsyn and others.
85. Thanks to Jose Cuervo, I stayed in the Harambee Hotel at Oppikoppi in 2016. It was my first tented hotel experience and it was great. The tasty breakfast and warm showers were amazing.
86. There are 3 tented hotel options for Oppikoppi: The Kreef Hotel (longest-running tented hotel), The Harambee Hotel and The Klein Windhoek Hotel. All of them offer breakfast, hot showers and power points (to charge your mobile devices). Click here to see pricing.
87. The Jose Cuervo Deck (also known as the Captain's Deck) can hold 70 people and features a great overall view of the festival. Festival-goers can usually gain access to the deck by completing "alcohol tasks".
88. The Windhoek deck also has a limited capacity and has been around since 2014. The deck also features a great views of the festival.
89. Taxi Violence played a set on the Windhoek deck in 2015. Francois van Coke and Hellcats have also played on the deck.
90. The 2017 edition's theme was "Me Now. The Mango Picker." (inspired by a Carlo Mombeli song). This edition wasn't hosted on the Women's Day long weekend – It was hosted from the 5th to the 8th of October.
The 2017 edition of Oppikoppi Festival rainy and muddy, not dry or dusty…
91. Oppikoppi Me Now. The Mango Picker featured performances by Two Door Cinema Club, The Naked and Famous, Hellcats, Flume, The Tazers, Francois van Coke, Van Pletzen, Grassy Spark, Carlo Mombeli, Mafikozolo, Black Coffee, Mouse, Desmond and the Tutus, Martin Rocka and the Sickshop and others.
92. Mafikozolo was the tribute artist at Oppikoppi in 2017.
93. Alessandro from Hellcats broke his kick-drum during their set (which also featured Shane from Pestroy).
94. Van Pletzen played their first ever show at Oppikoppi in 2017.
95. The 2018 edition theme is "Nomakanjani" (taken from the Brenda Fassie song and album of the same name).
96. Oppikoppi Nomakanjani will take place from 9 to 11 August 2018.
97. Oppikoppi Nomakanjani will feature Oliver Mtukudzi as the tribute artist.
98. Oppikoppi Nomakanjani will feature performances by Crimson House, , Urban Village, Stone Jets, Frame Janko, Bad Peter, The Barbosa Experience, Akkedis, Werner Bekker and others.
99. The 2018 edition of the festival is taking part in the European Talent Exchange Programme (ETEP) and will feature Blind Butcher (from Switzerland) and Dawn Brothers (from The Netherlands) as part of this program.
100. The Oppikoppi farm is located 12 km from Northam in the Limpopo province of South Africa.
101. Oppikoppi festival is organized by Matchbox Live.
Well, there you have it, 101 Interesting Oppikoppi festival facts and funny stories. I hope that you've enjoyed this trip from 1994 to 2018.
If you don't have tickets for this year's festival yet, get yours HERE.
If you're a music festival junkie, read our article featuring interesting music festival facts.
Watch this space for regular updates in the Music category on Running Wolf's Rant.