2 days ago a friend and I ventured into the Public Viewing area in Hatfield Square in Pretoria. We arrived while the game between Honduras and Chile was still on (just after 2:30 PM). After witnessing Chile beat Honduras by 1 goal to 0 we missioned around the square between pubs. Hatfield Square was packed with football supporters. There were a lot of international tourists who were enjoying watching the football on the big screen. I actually saw a Holland supporter with a Heineken Pletterpet. After the Honduras vs Chile match my friend and I found a spot to watch the Swiss take on the Spanish. Everyone expected Spain to win this match.
About this time a group of Bafana Bafana supporters started to parade around Hatfield Square and blowing their vuvuzela's in anticipation of the match between South Africa and Uruguay (which was scheduled to start at 8:30 PM at Loftus Versfeld). There were plenty of Uruguayans sitting around and they all gathered and started beating on their drums and singing Uruguayan songs. This eventually resulted in a face-off between the Uruguay supporters and the Bafana Bafana supporters which was filled with the beating of drums and loud vuvuzela's. The Uruguayans pulled out a huge flag and danced under it. The vibe was absolutely electric. The Spanish lost against the Swiss in their match (for the first time in footballing history).
The crowd then settled to watch the game between South Africa and Uruguay. We left in the middle of the first half to dodge the cold and avoid the traffic from the stadium and Hatfield Square and finished watching the game at home. Unfortunately Bafana Bafana did not win the game, but I will remember this day as one of those days that I experienced the spirit of the 2010 FIFA World Cup. These photos have been selected for my 2010 FIFA World Cup at Hatfield Square photo album. Feel free to comment on this post if you have an opinion.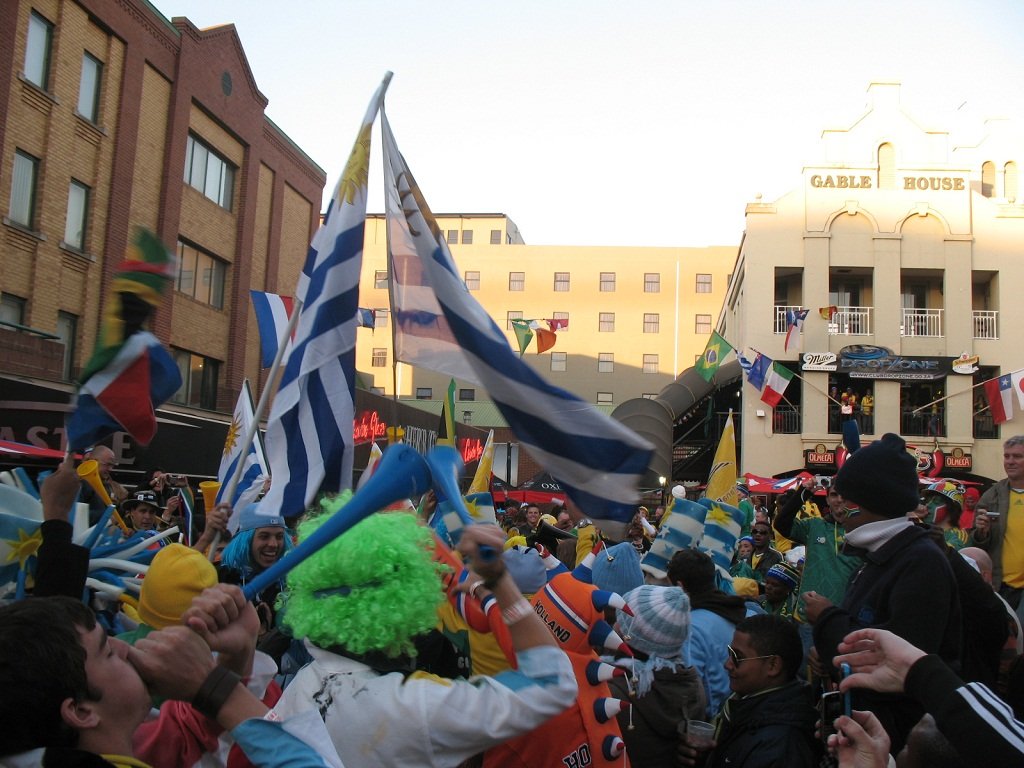 Feel free to check out the daily updated Babes and Photography categories and the regularly updated Music, Movies, Technology and Facts categories on Running Wolf's Rant.