On Sunday I attended the June 2015 edition of Park Acoustics. Because this edition featured a stellar line-up (which included Francois Van Coke, Jack Parow and The December Streets) online tickets sold a week before the event. There were still 500 tickets left at the gate, so people queued up from 5:30 AM on Sunday morning to get their music loving hands on a ticket. They were sold out before 9 AM (an hour before the gates opened).
I arrived at Fort Schanskop around 11 AM, just in time to catch Changeling's set. Their musical style reminded me a lot of Black Rebel Motorcycle Club (which impressed me and put a huge smile on my face) before I was impressed once again by Diamond Thug (a band that I saw for the first time at Up The Creek this year). Next up were The December Streets, playing one of the best sets I've seen them play to date and warming up the stage for Francois Van Coke and Jack Parow.
Francois Van Coke and his band completely blew away the Park Acoustics crowd. It wasn't long before the majority of them were having a good time and singing along religiously to his set (which featured a barrage of Van Coke Kartel and Fokofpolisiekar songs and songs tracks off his debut solo album). One would think that fans would not be too familiar with his new tracks only three months after their release, but hearing 2000 people sing along to "Toe Vind Ek Jou" quickly dismissed any doubts about that. Here are some photos from his set:
Jack Parow made his way onto the Park Acoustics stage next and pulled one of the coolest live performances that I've seen in the event's history. It was awesome seeing him and Loki Rothman (who recently launched his debut album) jamming and entertaining the crowd to the max with tunes like "Cooler As Ekke", "Ode To You", "Bring Your Friends" and many others. Francois Van Coke and Jedd Kossew joined him stage late in his set to perform "Dans, Dans, Dans" and "Hard Partytjie Hou" (which saw both Parow and Van Coke stage diving into the crowd).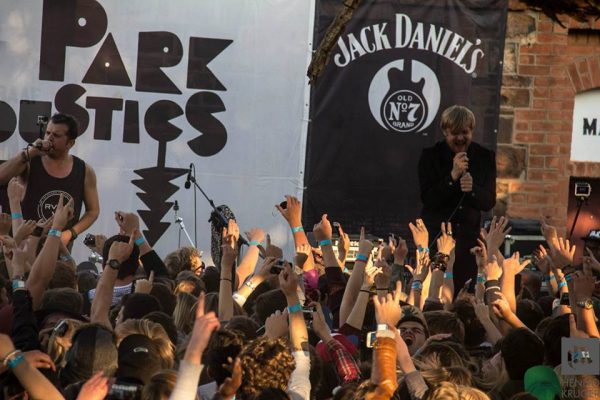 This edition of Park Acoustics was pretty damn awesome, but there was an element that sort of pissed me off a little bit: Teenagers and first years who think that Park Acoustics is there to get pissed and cause kak once a month. Many mature music fans have been avoiding the event for this reason lately, so the organizers responded today with a statement on Facebook:
"Good day Pretoria. Due to a high incidence of underage drinking as well as forged ID documents and festival wristbands we have decided to raise the age limit for attendance at Park Acoustics to 20 years of age. We have been building this event over the last five years and we place a lot of value on creating an enjoyable day with good music for our loyal fans. We believe that the issues outlined above should be addressed swiftly if we wish to continue for another five years and we are of the opinion that this is the best course of action moving forward."
I feel sorry for the 18 and 19 year old who were behaving themselves, but I guess they'll have to wait till they're older to experience Park Acoustics.
Watch this space for the Park Acoustics ticket competition for July (which should be up in a week or so) for more updates in the Photography and Music categories on Running Wolf's Rant.