I've been living in the capital city for the past 22 years. Needless to say, I've definitely been to my fair share of Pretoria restaurants.
The capital city has a wide variety of restaurants that cater to almost any taste imaginable. It doesn't matter if you are a carnivore, omnivore or herbivore, there are tons of great Pretoria restaurants out there with tasty food that will tantalise your tastebuds.
Here's my list of 10 Pretoria Restaurants that you should check out
1. Capital Craft Beer Academy
This restaurant is located in the Greenlyn Village Shopping Centre in Menlo Park. There are more than 200 different beers from all over the world on the Capital Craft Beer Academy menu.
Capital Craft has a huge amount of craft beers on tap and wide variety of tasty burgers, wings, ribs and more on their menu. My personal favorite is the Big Daddy Stuffed Burger (which has 250g patty stuffed with bacon, jalapenos and cheddar cheese).
Capital Craft is a great place to pull into for a drink after work or to watch the big game on the weekends. It's also ideal for birthday parties and dates and it's one of my favourite Pretoria restaurants.
If Menlo Park is not central enough for you, there's always Capital Craft in Centurion. The Centurion branch is located in Highveld in Logan Avenue (close to the John Vorster Avenue offramp on the N1).
2. Lucky Rodrigo
This vibey restaurant is located on the corner of The Hillside Street and Alpine Way in Lynnwood and this is also one of my favourite Pretoria restaurants. They have a few craft beers on tap and some really tasty grub on their menu.
Lucky Rodrigo is a great place to meet a friend for breakfast. It's also a great place to meet some friends for an after work drink. They have very basic itms on their menu, but their food is always fresh and tantalizing to one's tastebuds.
If you're someone that collects vinyls, pull in to their next Vinyl Market, have a drink and grab a bite to eat. You won't be disappointed.
3. Burger Bistro
Burger Bistro is the brainchild of Corné Read and Jan-Hendrik van Staden. They opened a restaurant in Pierneef Street in Villieria (against their mothers' advice) in 2012.
Burger Bistro is well-known for their tasty burgers. They have a selection of craft beers and they only use fresh ingredients. Their burgers range from pretty basic to burgers like the Elvis (which is topped with peanut butter sauce and bacon) and the Marilyn Monroe (which is topped with melted brie, balsamic and blackberry jam).
If Villieria is too far away from you, don't stress. They have branches in Hazelwood, Montana and Clubview (in Centurion) too.
4. Woodstock Urban Pizzeria
This restaurant is located in Duvernoy Street in Constantia Park. Woodstock Urban Pizzeria is the brainchild of the Kotze brothers. They've taken a different approach when it comes to designing their menu. They've put together a variety of flavour combinations for their pizza's to provide something suitable for everyone's palate.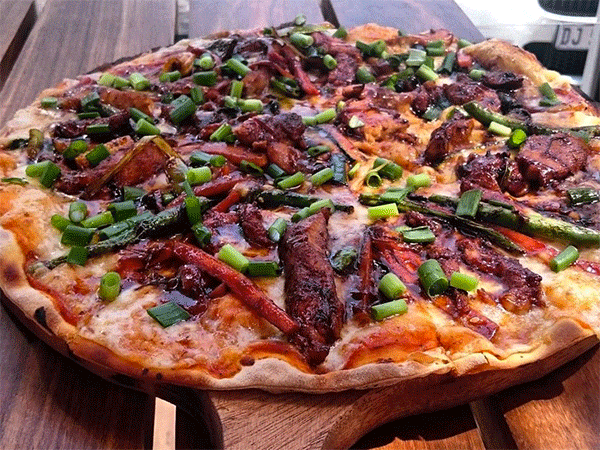 Besides pizza, they also have tasty ribs, wings, roasted rotti's and homemade lasagne on their menu. Their S.A.P.S. pizza sounds delicious. It's topped with mozarella, slow-roasted pulled pork and green peppers. There's also Indian pizza with Chicken Korma on it.
5. Blos Cafe
This 420 seater Pretoria restaurant is located in Faerie Glen on Olympus Drive. It's a huge restaurant with open-air deck. A huge part of the deck is bordered by a green belt.
Blos Cafe's menu caters for all tastes. All of their burgers are served with 200g home-made rump patties. Their also a nice selection of gourmet sandwiches, breakfasts and appetizers. There's a lot of option for vegetarians and vegans.
6. Pride of India
I visited Pride of India earlier in the year and I must say that I was blown away. I'm not a huge fan of Indian food, but their Northern Indian Cuisine was absolutely superb. You can taste the passion that goes into making the food. Pride of India is situated in Club Avenue in Waterkloof Heights.
Every single dish that we enjoyed was choc-a-bloc full of tasty flavours. Their naan, chicken kurma, lamb kurma and chicken masala was delicious. Pride of India is definitely worthy to be on this list of Pretoria restaurants.
7. Koi
In 2017 I experienced Koi (which is located at Menlyn Maine Central Square) for the first time. This restaurant serves top-notch Asian Contemporary Cuisine with a Western touch.
I can safely say that they served me the best sushi that I've ever tasted in Pretoria. The dim sum was also really good. Koi is on the pricey side, but their food is absolutely superb.
8. Tin Roof Cafe
I've heard only good things about this restaurant (which is situated at Plot 289 in Mooiplaats). If your idea of great dining experience is to escape to the country, dine on fresh produce crafted into unique wholesome dishes and served by passionate people, then Tin Roof Cafe should be on your list of Pretoria restaurants to check out.
Their dish called "Chicken under a brick" sounds like it could be extremely pleasing to my tastebuds. It's a deboned half chicken (flavoured with sage, lemon and olive oil) and served with creamed potatoes. That does sound yummy, doesn't it?
Tin Roof Cafe was established in 2010 as a sideline project to house a talented chef and features a constantly evolving menu. Their current menu is choc-a-bloc full of interesting culinary creations. I definitely want to check out this Pretoria restaurant in the near future.
9. Capeesh Italian Restaurant
A good friend of mine is a huge fan of this Pretoria Restaurant. It's located at Cherry Lane Shopping Centre in Fehrsen Street in Brooklyn. The restaurant has a seductive wine selection and great Italian food.
Capeesh is a bit pricey, but their food options look yummy. The Involtini Di Pollo looks like something I can indulge myself in: Chicken breasts rolled with spinach and feta and covered with a white wine mushroom sauce. The restaurant has set menu options for large groups.
10. El Pistolero Mexican Restaurant
This is definitely one of the Pretoria restaurants that I want to check out. They serve authentic Mexican cuisine. El Pistolero is located in Duvernoy Street in Constantia Park.
Their menu features some great starters, tasty gourmet tacos and burritos. Patrons have the option to create their own tacos. The restaurant also has a selection of Tequilas and Cocktails.
I could totally see myself enjoying their Pulled Pork Burrito: Pork belly stewed in adobo and topped with coriander salsa. The R200 margarita jug also looks very tempting.
Well, there you have it, my list of 10 Pretoria Restaurants that you should check out. Which one of these restaurants is your favorite and why? Which restaurant should be on this list? Leave a comment below and let me know.
Want to know more about the capital city? Check out these interesting Pretoria facts.
Watch this space for updates in the Opinion category on Running Wolf's Rant.