Why should kids take violin lessons? Today I'll answer this question in detail. The violin is a magical instrument that allows you to relax and calm down. It doesn't matter if you are listening to music or playing the violin yourself, it effects you that way.

Kids should learn how to play the violin. It influences their brain development, their ability to get rid of stress, their coordination of movements, etc.
When children take violin lessons at an early age, they develop various skills. Violin lessons give them many benefits in terms of behaviour and health that they will carry with them in the future.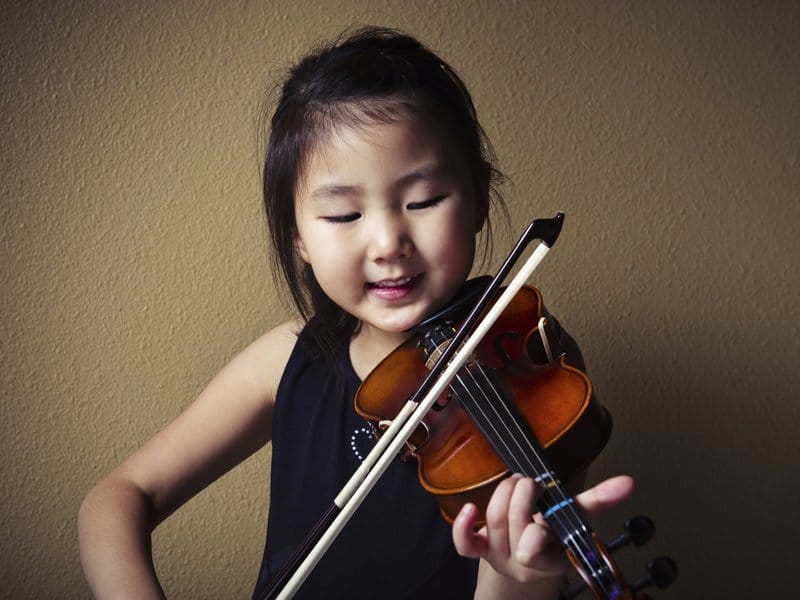 Scientists have conducted research and proven that it's music that has a stimulating effect on brain development. According to the research, this strengthens children's nerve endings in their brain. If you develop this from an early age, it enhances their intellectual and creative abilities.
Need more info about this musical instrument? Click here to learn about violins.
Here are 9 reasons why kids should take violin lessons
1. It improves their brain development & health
When kids start playing the violin, different parts of their brain are stimulated. The violin requires them to coordinate the movements of various parts of the body in order to perform the task correctly.
All the pieces and tones are played in different ways, so studying the violin will make their mind more acute. When kids begin to learn music, it helps them express their emotions during performances or rehearsals. The activities through the tool will help them to relieve stress from the body and feel relaxed.
2. It increases their discipline
While taking violin lessons, kids are taught to practice their violin pieces and scales every day. The practice will improve the skills level of kids. Learning how to do things every day will greatly benefit kids when they grow up.
3. It raises their self-esteem
Learning to play an instrument is not easy and the violin is a complex instrument. However, hard work and training can make it easier for the child to learn it. When kids learns a tone or a song, their mood and self-esteem improve. Learning to play the violin is a very productive process. Studying the tone or song gives you the same sense of satisfaction as winning a sports match.
4. It improves their co-ordination skills
Violin lessons will improve your kid's co-ordination skills. With the left hand, kids play the strings, where the right-hand holds the instrument's bow so a relevant tone is achieved. This improves co-ordination in both hands. This helps them to fully utilise their left and right brain.
5. It boosts their intelligence
While kids try to learn the violin they need to recognize the right pitch and tone of the instrument. Fingering and bowing the violin will help kids to play the song with the right pitch. This will improve the connection between their brain cells and neurons.
In the long run this will vastly enhance their intelligence levels. This process is known as brain gymnastics. This will also improve their abstract reasoning, mathematics and reasoning skills.
6. It develops there problem-solving skills
In the process of learning to play the violin, kids develop a positive attitude towards problems and difficulties. Through this process, the kids can develop their problem-solving skills and patience. They learn that only patience, concentration and constant hard work will allow them to achieve success.
7. It improves their concentration
Reading musical notes and playing them requires complete concentration. The child must focus on thoughts while reading the note and moving the hand or fingers to play the rhythm. This task improves critical and creative thinking because after one note is played, you must immediately go on to the next note.
8. It refines their image and personality
In addition to physical skills and psychological development, learning to play the violin refines your personality and image. While learning to play the violin, you gain sophistication and politeness and your personality and temperament becomes more harmonious.
9. It will help them to do better in subjects at school
Various studies and surveys have shown that children who know how to play the violin or any other instrument show better results in school subjects. It has been established that playing the violin helps them in school and general lessons like behavioral or spatial cognitive development.
Studies have shown that children playing the violin do very well in math and related subjects that require problem-solving techniques.
Conclusion
So, even if these are simple melodies or a few notes, violin lessons work wonders in the development of the personality and academic success of your kid.
Buy your kid a violin that's suitable for their age and you will give them a musical gift for life. This gift will enrich their personality and give them happiness, as well as improve physical and mental development.
Watch this space for updates in the Opinon category on Running Wolf's Rant.