Hearing 20,000 fans singing "All over you, all over me, the sun, the sea, the sky" along with Live gave me gooseflesh. I will never forget this for the rest of my days. I was watching one my favourite bands (one of the five that got me hooked to rock music way back in 1996). Yes, I jumped on the bandwagon a bit late, but forgive me: teenagers are wired creatures.
The level of excitement could be felt in the basement parking of Times Square and the new Menlyn Maine in Pretoria. This was new to me as I grew up in the backseat of my aunt's car as she took us to Menlyn millions of times. Now I was gifted with a beautiful mirrored building showing off in the Pretoria mid-day sun. We made our way to the casino for a much needed Fokof Lager at The Brew Monkey. That beer was fantastic for a Thursday afternoon. Soon we were outside at the bar that was placed just for the show. We met up with friends and the new Amstel Lemon was tasted. More was ordered with tequila and Jagermeister promo girls offering the ice cold beverages.
After what felt like 15 minutes but was closer to 5 hours it was time to go through the doors of Times Square. We simply had to stand in line to be scanned and at the door have our handbags searched. Gents were scanned by the security. We have been to Carnival City a few times (watching Blood Brothers), but unlike that, this place was packed. There were many lines for beer and a very long for the ladies bathroom (I still don't get why though). Ladies: Go in, do your business. Wipe and flush. Wash your hands. I can do it under 2 minutes. Why take 10 minutes in a toilet cubical?
We managed to find the Golden Circle entrance but stopped at the merchandise table first. The tour shirt, cap and two pins left a huge gap in your wallets. (Before you ask: yes, I still collect pins). We got our golden arm bands and went into the pit. The first person we bumped into was the beautiful song bird Tailor. She did a duet with Ed Kowalzcyk on his debut solo album (on the song which is entitled "Angels on a razor").
We found a spot on the right of the stage (near the bassist stand) and it wasn't long before the lights dimmed and Jacaranda FM's Martin Bester and AMP Events owner Andy was on stage to introduce the show. They informed us that the Saturday show would be broadcasted all over the world via the internet and shot for a Blu-Ray / DVD release next year. So, if you missed the show, you can watch it next year.
The opening band was Sweet Residence from Cape Town. It was the first time we saw them. Apparently they were also at the Pixies show earlier this year in March. The front lady, Natasha Meister, with a fantastic vocal range and epic guitar skills was about all what we enjoyed from the whole thing. There were many of us that wasn't too impressed with it.
After they got off the stage, the technicians quickly turned the stage to make way for Live. Nothing is more exciting than the time space where the lights are dimmed and the band walks on the stage. Man, what a feeling! And when Ed started the whole arena went wild. These guys has such a deep relationship with their South Africa fans. From many of interviews they have labelled us as the best live crowd to play for – that's saying something.
They played plenty of songs off their first album, "Mental Jewellery" (which turned 25 years old this year). This included songs like "Pain lies on the riverside", "Mirror song" and "Beauty of Grey" (a song he wrote at a young age in their hometown of York, Pennsylvania). He said that their area had also experienced and still experiences a lot of racial issues and civil issues. Ed said that "Music has the power to bring people together" (which is absolutely true).
The band also dedicated a song to the late Chris Cornell. They covered Audioslave's song "I am the highway". Their popular version of "I walk the line" was introduced by a Johnny Cash interview when he spoke of the song. That quieted 20,000 screaming fans down. Other songs they played included "The Dolphins Cry", "Shit Town", "Lakini's Juice", "Run To The Water", "I Alone", "Rattlesnake" and "White Discussion".
The best part was when just Ed came on stage and did acoustic versions of "Turn my head" and "Heaven" (which he dedicated to all the daughters and mothers in the crowd). He also did a slow acoustic version of "Mirror Song" (which was on the "Mental Jewellery" album). He also asked the crowd to switch on their phones' flash lights during "Turn my head" and it was a beautiful sight. The last long Live played on the night was "Lighting Crashes". It had many people in tears and the whole crowd carried the song all the way through.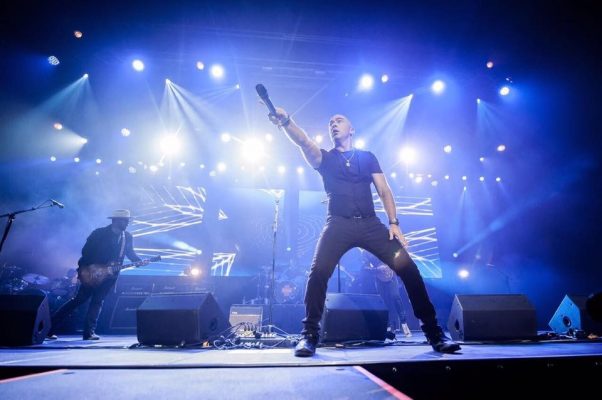 On a musical level I must applaud the band for their skills. To watched bassist Patrick Dahlhmeir doing at least three different bass styles and it was amazing. It's also amazing how he has evolved from the first album to now. Chad Taylor is certainly one of the best guitarists. He had the crowd going at times and you could see the love shared between the 4 members of the band. Ed has a stage presence like no other. It was sexy and hard rock. His vocal capacity is really something to write home about to. It's one of the unique features of Live's sound. If you don't believe me, wait for the DVD in 2018.
If you are a fan or not, Live is one of those bands that will forever change any heart, keep rock 'n roll blood flowing in our veins and create memories for fans. Until next time Live.
Watch this space for regular updates in the Opinion and Music category on Running Wolf's Rant.
A green cow, part of a heard of plastic / latex cows, spread between Nelspruit, Sabie and Cape Town. My owner adopted me when I only could speak Chinese, now I'm fluent in Afrikaans, English second language and cow.
Want to know who our friends are? Click here
Need to kill some time? Read a random article on RWR! Click here
Click here to explore all the sections on Running Wolf's Rant
Click here to read our latest reviews on Running Wolf's Rant
Click here to listen to Matt Haddon's Corporate Punks Podcast