Misty Waters Festival is a 3 day Mystical Music Festival that takes place on the beautiful grounds of Lake Umuzi in Secunda.
The festival is only in its second year running and I have to say I was completely blown away with the whole set up: the festival did not just have easy access to the water park, kiddies play area, the hotel and restaurant but also, to the shopping Centre, located not even 10 minutes away. I mean can you leave a fest and grab a Mac Donald's burger and STILL be back in time to watch the first band? I think not…
I like to think of Misty Waters Festival as a "Fancy Fest" reasons for this is; unlike most festivals they had, Hotel 'like' toilets (you know the ones that flash and ALWAYS have toilet paper) and clean porter potties, baths and showers, and yes, can actually have a hot bath/ shower at the festival. Along with hot and cold-water swimming pools and electricity while camping. Like I said: a fancy Fest.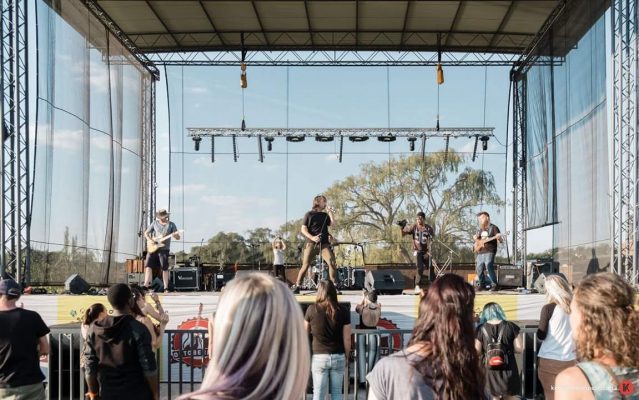 Here's my review of Misty Waters Festival 2018
The organizers of Misty put together a smashing line up; on the Friday, first up we had The Capitals, who opened the festival in such a vibrant way: their energy was just what I needed after cracking opening that first beer after, setting up your tent in the blazing sun! Then we had the band I would like to refer to as "The guys who brought the sexy" Skinnee Sunrise, this, being my first time seeing them live I was surprised of how bada$$ these guys really are. On a side note, am I the only one who thinks that Stiaan Du Preez looks like an "earlier" version of André Kriel from The Black Cat Bones? Hmmmmm… We were then spoiled with the Benoni boytjies Strait Jackal and man, did they bring some new flavour: I mean a trumpet really… who would have thought it would sound fantastic?
Next up we had Blackwood Freda slamming it into the sunset. Serenading us into the night was Peter Toussaint with his beautiful story-telling and kick a$$ guitar skills.
We then had the legendary Koos Kombuis, Koos's performance was memorizing from start to finish…
The party then kicked off with the gentlemen from Tidal Waves and their rocking Reggae tunes! We were then had a glistening performance by The Black Cat Bones. I remember Irene, (My Sister) saying that this must be the first time watching them where she didn't have to ask them to show her their tits, as Kobus De Kock Jnr invaded the stage shirtless (Shocking)!!! Bye Beneco then started to spice things up with their modernistic electric "dream-pop" jams. The Dandies then blow it out of the park with their state-of-the-art performance with new members and rehabilitated Rock n roll tracks – absolutely amazing! Stones & Gold closed off the show with zealous way.
We then headed to one of the many bonfires to try and keep warm from the shivering Secunda winter weather at Misty Waters Festival. And after a few drinks myself and a few friends decided to "break in" to the VIP bar (sorry not sorry), but I can with all confidence say that even the VIP area was breathtaking. Yes, like most of us festival goers we all know that you shouldn't "blow your load" on the first night, however, the first rule was clearly already broken, so it could only get better from hereon. Well so we thought…
After a very intense all nighter we decided to hit the shops, as we finished all our booze the night before. We made it back just in time for the first band of the day; Go barefoot. I would like to give credit to the organizers that put together Saturday line up; as no one could have done a better job: It is as if they took my hangover into consideration and provided a brilliant, chilled set and worked up the vibe going into the night shift… We Are Charlie and then Deon Bakkes and The Stolen Horses was the first combination to get our festival juices flowing, again. We then had Bacchus Nel 'met sy lekker Afrikaanse stories' – op die plaas!
Them Dirty Shrikes were up next at Misty Waters Festival, and man did they get you in the mood to stand closer and start moving your feet. Personally, I have a lot of love for this band; So exquisite. Black Harbour bringing the blues and they never seem to disappoint!
Albert Frost always putting on a fantastic show. At this point I started to lose my voice as I kept screaming "dripping sexy" as that is the way an electric guitar and bow makes a true blues fan feel! There are just not enough words to describe the prodigious performance/ artist that is Mr Albert Frost…
Sannie Fox then brought us into the night with her stunning song writing and mad guitar skills. We then had the sexy blues buck Dan Patlansky, shedding his sexy on the guitar and he had the crowd in a type of trans!?! The cherry on top was when they set alight The Misty Waters sign, gorgeously constructed of hay barrels on the river bank. (Doesn't that just sound like a Willy Nelson song title?) Scarlett Will and Kings Of Improg (KOI) took full advantage of the crowd and both had an fascinating show.
After partying like animals for two days straight at Misty Waters Festival it came to the day we were all looking forward to; Just soaking up the sun and sounds of symphonies all around us. At 10 AM we first had Misty Milk and boy did their tunes shoot a stray of lightning strikes through your soul. Their sound was well structured. The George; a 5-piece 'garage pop band' from Pretoria, delivered that pick me up that we all needed! Next, we had our Folk-rock duo Bad Peter; I am a big fan of these guys and they always fill my heart with words of loves. Furthermore, we had Sutherland and Native Young; who both stuck to the true culture of South African music!
Piet Botha and his merry men, then had the crowed captivated with their trails of drunken nights and Piet, of course shared some of his jokes! 'Moet nie worry nie Piet, ek het jou grappies gevang J'. Piet even blessed us with some of the new tracks from his new album Die Middernag trein.  Ongelooflik mooi.
Frans, from Gunshot Blue had the crowed dazzled with his incense on stage "To set the mood" he said, and it really did. It truly was an insane performance! Unfortunately, we missed Jan Blohm, but the feedback received from the "leftovers" at the festival say it was magical…
Personally, I would have made some slot changes to Friday's line up, other than that I believe that it was a well-organized music fest and will definitely recommend any and all to go next year.
My highlights relating to Misty Waters Festival is not just having Kobus De Kock Jnr singing Happy Birthday to me in the Hotel reception area or Kaihl Meades wishing me from the stage, but all the beautiful people who joined myself and Irene in celebrating our special day!
I would like to give a special thanks and photo creadit to Kubili Media House for the incredible photos taken over the weekend! See you at Misty Waters Festival is 2019!
Watch this space for updates in the Music category on Running Wolf's Rant.