After the success that was Park Electric last month, the Park Acoustics organizers reverted to their old ways and we were treated once again to what we have grown used to over the past nine years, Park Acoustics. This month we were in for some blues, pop, and indie sounds.
Here's my review of Park Acoustics (which happened on 6 May 2018)
Since there had been queues since like super early last month, we decided to arrive early again this time. I guess one can't complain when you are the first one in the queue. The weather might slowly be cooling down, but it played along nicely on Sunday (for once I didn't get sunburnt).
Since we were first in the queue and the first to reach the top, we found our usual spot and poured our first drink for the day (mmm Margarita). I was awaiting the start of the music. We still had an hour to wait before the festivities started, so we ventured into the food stalls. Our favourite Braaiboy greeted us by having us taste his new beer. Do yourself a favour, head out to Capital Craft to try it out! Tummies filled, we headed back as soon as we heard everyone's favourite MC, Nqoba announcing the first band.
The Cape Town based band, Stone Jets kicked off this edition of Park Acoustics. The had the attention of the crowd with their fresh, unique brand of Afro Pop Rock. The trio performed songs off their EP's, River and What I Say. And can I just say, wow! The vocals on that lead just left me speechless.  And, him being a bassist, made me like him even more. We danced along to "I can't Live Without You", "Something Good" and "Hurricane". I really do hope they travel back to Pretoria soon. Until then, I'll just cling on to the memories of the day as I cling onto the guitar pick Manfred gave me.
If you haven't heard the of The Barbosa Experience yet, you are missing out on. Fronted by Perdo Barbosa, they offer a diverse mix of sounds inspired by African sounds, as well as Brazilian (bossa nova) and Jazz. We were treated to songs like "I Got No Money", "Magic Mike", and the whole crowd sang along to "Volare". Alas, screaming 'we want more' didn't quite work this time (sad face).
Boxer kept the Park Acoustics crowd on their feet. This four-piece, Joburg based band had us all craving Pringles. I mean, as the lead singer of the band, one has to have some perks, such as being fed Pringles between songs. Or maybe this just made him perform even better, like a boxer dog working hard for his treats? It definitely worked. "Blue Lights" and "Catch and Release" were just some of the songs we were treated to during their set.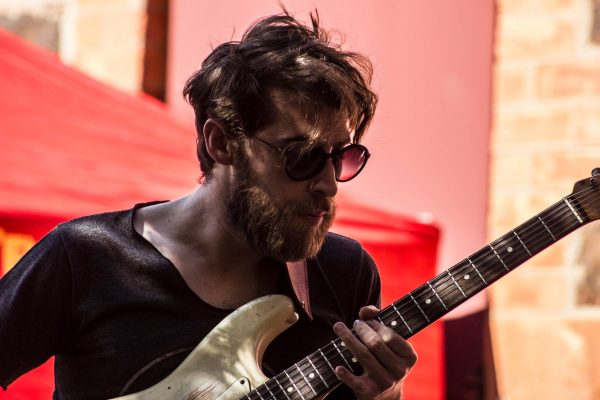 Even if you don't really know Rubber Duc, you actually know Rubber Duc. Remember a little song from a few years ago called "Ain't Nobody Got Time for That"? Yes, congratulations, you do know Rubber Duc. I've seen them perform a couple of times over the last two years, and every time is a jol. Their energy is infectious, and you can't help but move along to "Wellington". There is just something about a saxophone that makes your feet move, and my feet might have been a little bit sore the next day (I can't even blame the new shoes".
Dan Patlansky needs no introduction. I mean, if you don't know the local talent being rated as the fourth best guitarist in the world (according to Total Guitar Magazine), you are clearly living under a rock. That man just oozes swag (and I don't care, he is the only man I say that about, well also Alex Turner maybe).
There is just something about Dan's sound that draws me in and keeps me hooked. Whenever I hear his music, I always imagine I'm sipping expensive red wine in a blues club on an overcast day in New York. But this time we were on top of Pretoria, with some of the most beautiful views while listening to some of the best damn music there is! Patlansky was the fitting end to an epic Sunday.
Park Acoustics' birthday is coming up later this month, and that means an even bigger line up. Tickets are already running out, so you better hurry up if you want to catch, wait for it… Francois van Coke, Jack Parow, Deon Bakkes & the Stolen Horses and more.
Photos by Ferdie Snyman.
Watch this space for regular updates in the Music category on Running Wolf's Rant.