It might have started out as an overcast day, but the second Park Acoustics of 2018 definitely brought the heat (as did the sun when the clouds disappeared).

This month's Park Acoustics wasn't like the ones we are used to
Due to popular demand it wasn't held under the shade of that big tree in Fort Schanskop, but rather down at the bottom at the bigger venue. Most of us walked the endless steps down, knowing that we might die at the end of the day when we had to trek is all back up again. But luckily, we would all have some alcohol courage by then.
Adelle Nqeto's angelic voice started the day off on the right note. I have been a massive fan of her ever since I saw her at Oppikoppi in 2016. She was also one of my highlights at Mieliepop 2017. For everyone who does not yet know who Adelle Nqeto is, she is the soft, sweet voice you hear along with Jeremy Loops on "Lonesome & Blue". And with them both being at this month's Park Acoustics, I was looking forward to them performing this duet. Sadly, that did not happen. But, we were all treated to a jam-packed set from Adelle. Songs she performed included "Lights", "Believer", "Along the Way" and "Make Something Beautiful".
Bam Bam Brown is a name I've frequently come across but I have never listened to his music before. Bam Bam Brown is no stranger to the music scene. He started out years ago fronting Saintfearless, and later Feverstone, with who he toured with the likes of aKING, Fokofpolisiekar, Kongos and Tidal Waves. He has ever since moved on to a successful solo career. The crowd seemed to love his vibe: his colourful clothes and crazy face paint. He got everyone to start moving their feet.
As the day was heating up, so was the Pringles Main Stage. Following Bam Bam Brown was Native Young. They are a Cape Town based African-psychedelic-pop band. The crowd seemed to love them. My stomach on the other hand loved all the different options of food. Although one could not see the acts on stage from the bar or from the food vendors, one could still hear their music. I loved their song "Crystal Lion". They also performed "Islands" and "Children of the Sun".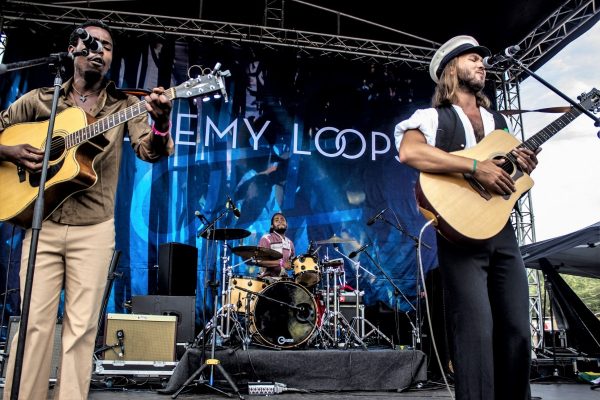 The first time I saw Tresor live was at last year's Liefde by die Dam. I was immediately drawn to his sound and his story. For those not aware, Tresor (French for treasure) travelled through Africa from the DRC and ended up in South Africa. He worked as a security guard and a car guard to turn his dreams into a reality. Since then he has worked with the likes of AKA, Khuli Chana, Beatenberg and Majozi. Tresor attracted quite the crowd, and even though they were waiting on Jeremy Loops, they couldn't help but be entertained and captivated by him. The crowd swayed along to songs like "Remedy", "Zambezi" and Evergreen".
The moment basically every person present at Park Acoustics was waiting for, had finally arrived. We were all burning up in the sun, since we didn't have our usual shading as in the Fort, but it seemed like most didn't mind. As the wonderful MC, Nqoba made the introduction, the crowd began to chant with: "Je-re-my Loops, Je-re-my Loops!" And finally, the one, the only, Jeremy Loops appeared on stage. The crowd went wild, even my friend who saw him the day before at Large on the Lawn too.
He started with one of my favourite songs, which almost brought a little tear to my eye, "Higher Stakes". It was extremely crowded anywhere halfway near the stage, and I retreated to the shade of our gazebo. Jeremy Loops kept the crowd jumping with songs off his new album, Critical as Water, which included "Waves", and "The Shore".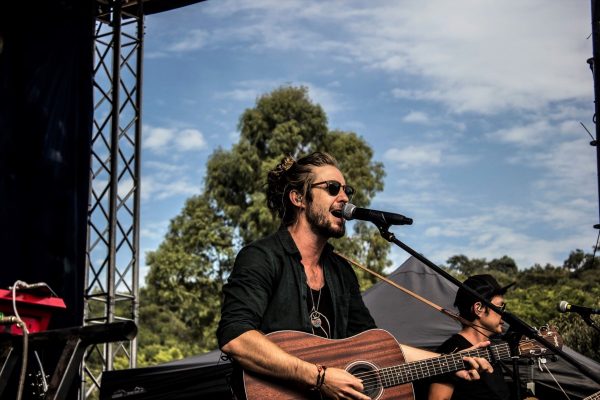 Obviously, he also played older favourites such as "Skinny Blues", "See, I Wrote it for You", "Sinner", and the big crowd favourite, "Down South". Some of the people close to where I was standing did mention that they would have liked Jeremy Loops' set to have been longer; for him to have played some more songs off both his new album and Trading Change. But, they still loved every second of it.
Some of the crowd left after Jeremy Loops was done, trying to "miss the traffic". Although this created more traffic. The sun hadn't set just yet, and the rest of us were still in the mood for some music. So, David & Goliath was a fitting end to an epic day. They got those of us still left to move our feet as the sun was setting behind us.
It's understandable why a bigger venue was booked for this Park Acoustics, with the amount of people who wanted to see Jeremy Loops and all. I saw plenty of new faces who have never been to a Park Acoustics before, and I felt it was a shame that they could not experience how much more intimate it is when held at the top in Fort Schanskop.
I guess they will just have to attend the next Park Acoustics then, which will be held on the 8th of April with acts like PH Fat, Timo ODV, The Kiffness and Apple Gule.
Photos by Ferdie Snyman.
Watch this space for regular updates in the Music category on Running Wolf's Rant.