Online Gold trading existed before other markets like stocks and bonds. Therefore, some researchers consider the period between August 2018 and August 2020 consolidation. Does that imply it is the time to invest in gold right now? Here is some basic information on what is going on with gold or why investing is essential.
Why is gold rallying?
As a result of the decreased rate of the dollar, the price of gold has increased by nearly 19 per cent since last year. As it's less unpredictable than other trades like shares, gold is a "safe haven." The metal also goes in the opposite direction of the US dollar, so as the USD declines, gold rises.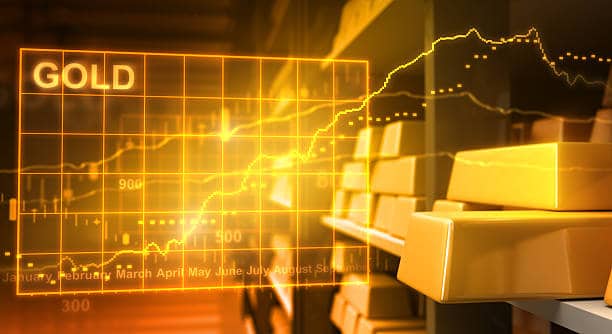 Prices set to rise
The price of gold since the coronavirus has more underlined its value when the virus shook markets in late March. Gold hit record highs after the share market fall in 2012, and many analysts continue to forecast more rises. Most likely, buyers will return to gold as a safe investment and protection against financial instability.
Bank of America predicted that the precious metal might reach $3,000 per ounce in April. But, according to Michael Widmer, that increase will be driven by ongoing world unrest, at least for some time.
Status of Gold in Today's Market
The price of gold per ounce has risen rapidly since August 2020. During that month, the price of gold for an ounce hit USD 2000. In 2021, the trend changed, and the price per ounce decreased. As a result, some people concluded that it was not the right moment for gold trading. The average price of gold at the end of the third quarter of 2021 was $1,800 per ounce.
Anticipated Gold Performance In The Short-Term
Short-term inflation will lead some traders to take a break and wait to see how the metals industry develops for the upcoming year. Look at estimates for the next five to 10 years. You can see how gold is a wise decision even though it may not offer quick profits in the marketplace like other investment choices—purchasing the gold now and waiting to enable you to benefit from more gains eventually.
The Historical Background of Gold Trading / Investment
Before money, gold was regarded as a symbol of wealth and was coined into coins as early as 550 BC. But gold didn't start to have a place in modern finance until the late 1800s. It is because the number of gold ties the currency's value to the price of gold, which most countries accept.
Wake up to the financial crisis of 2008; gold prices were very stable. However, the cost of gold increased, going from about £15 to £30 per gram. Although there have been ups and downs, the trend for gold remains upward.
Why Invest in Gold?
Brokers favour gold trading because it serves as a hedging investment. There are numerous methods for purchasing gold. There is no one way that is the "best," though. The secret to good investing depends on the specific situation and investment goals. Consequently, gold may be a wise investment.
If you know the risks involved, you should only deal in or exchange gold. Gold trading is not available on Metatrader4.
Is it the Right Time To Buy Gold Now?
The cost of gold per ounce is at its lowest level for a while. So, there's a high risk that you wouldn't be able to purchase gold for the same price this time. Purchasing now enables you to regulate the market when the price falls. You'll put yourself in a position to benefit when gold's value exceeds its current price and provides profits.
Make Gold Trading Part of a Long-Range Investment
A few investments give profits. For example, you hold some stocks for a few months before selling them off right before their peak. As a result, you can get returns fast and move on to the next investment. The intention is to hold long and takes the price to start growing again, which might be weeks, months, or years.
When gold is less expensive, you can make investments and keep them for a while. Then, when gold's value does start to rise once more, you can choose whether to hold onto it a bit longer or sell it.
Make your Decision
Ultimately, it is up to you to determine if you want to increase your stock's gold holdings. The return can be outstanding if you have the money to wait another year or two.
Remember that even though the price of gold will be lower in 2022 than in the previous two years, it will still likely be a wise investment over the long term. So, if you are approaching retirement age, online gold trading is something to consider.
This Gold Trading infographic should give you more insight to make your decision:
Wealth Preservation
Many investors believe in gold trading because of its ability to preserve money. It is just like possessing a £50 note and £50 worth of gold in 1980 –  a key difference indeed. Since then, gold's worth has made people go crazy, making it far more valuable.
Watch this space for updates in the Opinion category on Running Wolf"s Rant.