First off, apologies for the very late post, It's been a hectic week.
Last week Saturday I finally popped my interview cherry when I interviewed the awesome, Shout Hey! At Arcade Empire after their last show on their 'Can you hear me' EP launch tour.
I'd like to start off by saying that I'm not usually into many trio bands, mostly because I think that 5-man bands are better live as everyone has their own role in the band and doesn't share roles as often as trio bands do, but then you look at a band like Blink 182 or Muse, and they make it work. Shout Hey! is no different, the energetic live performance they give can, according to me, be compared with other well known South African bands such as Zebra and Giraffe or The Plastics.
The band consists of friends, Tim Kohler (Vocals/Guitar), Matt Pratt (Vocals/Keyboard/Bass) and Brogan Muir (Drums), from Kensington, Gauteng. They have been playing together for about 5 years and 2 years as Shout Hey! The sound of the band is definitely not that of an immature band that started a few months ago and the experience comes through in the live shows.
They describe themselves as an Indie-ish trio whose aversion to genre helps them create a fruity blend of music with a zingy aftertaste. Enjoy with Sushi.  Honestly, I couldn't agree more. The band has a rich Indie/Pop sound with a splash of good old Blink 182, just because it works.
When I asked them about the name, they said that they thought about what people would think when they heard something new or that they liked, "Hey! That's a cool song!"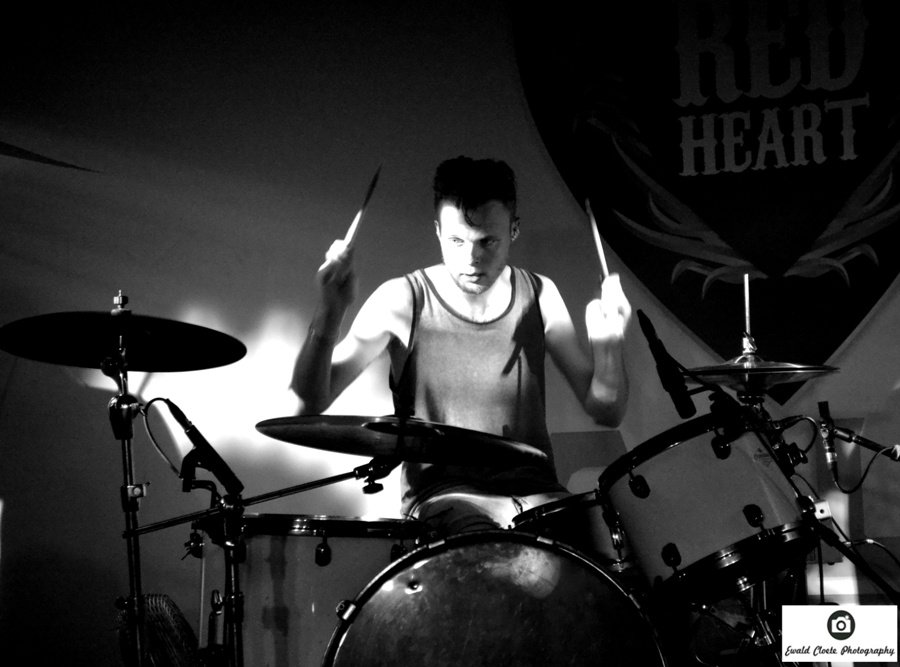 The whole band writes the music as one, with each of them adding their own flavour and uniqueness to every song. Tim says that they write around one part of a song, whichever one they come up with first.
Q: If each of you can describe yourselves in one word, what would it be and why?
A: Tim: Serendipitous – "I love the word and that's how the writing process of the band works." As per the dictionary, the words meaning is. Occurring or discovered by chance in a happy or beneficial way. I can see why he loves it and why the song writing process can be explained with this word.
Matt: Perfection – "Because I take forever to do my hair to get it perfect but it still isn't (Laughs)", Tim, "Or narcissistic… (Laughs)"
Brogan: Suave – "Because of my hair."
Q: What makes this band stand out from all the other bands in South Africa that are trying to make it at the moment?
A: "What we bring to the band as individuals, we all have our own ideas and we seem to make them work when we put them together. We try and expand our musical pool, and don't just keep it in the same genre. We also try and make friends with all the people that come to our shows, and by doing that, our fans are watching their friends perform."
Q: Is making music enough to cover the bills or do you guys work or study?
A: Tim: "(Laughs) maybe one day! There have been shows where we've taken away a few bucks, but there have also been shows where we're lucky to get R20.00 at the end of the night. But we love doing this, and we will keep on doing it."
Matt: "There have been shows where we had to pay the venue for the night out of our own pockets."
Brogan: "We are all starting our studies this year. Tim is moving down to Stellenbosch, Matt is moving to Cape Town and I'm staying here in Joburg to study."
Matt: "I'm moving back to Cape Town to study, that is where I'm originally from."
Tim: "We are NOT breaking up! We will be flying to wherever there's a show."
Tim, Matt and Brogan are all first years this year and will be spread out all over the country. Matt will be doing his Bachelor of Music at the University of Cape Town, Tim will also be doing his Bachelor of Music at Stellenbosch and Brogan will be doing Sound engineering here is Joburg.
Q: What was the most recent tour argument?
A: They all agreed that most of the arguments were on how long Matt takes to get ready in the morning.
Brogan: "We can't wake him up. He has this whole ritual in the morning. He has to get up at least an hour before me and Tim, and sometimes we are still ready before him."
Q: Out of all the shows you played over the past month of touring, which was your favourite?
A: Tim: "Definitely The Assembly in Cape Town. It is my favourite live venue in SA and we got to play alongside Beach Party which is also my favourite SA band at the moment. I'm also going to confess my love for Danielle (Big Daddy Dolphin) Hitchcock from Beach Party, whom I met by an awkward one arm hug."
Matt: "Mine has to be the show we played with The December Streets at Live The Venue in Durban."
Brogan: "I'll have to go with Arcade Empire. The people out there were great!
This show was probably the most fun I've had with clothes on since I was about 6, and everything is fun when you're 6. These guys are an amazing talent and they make me look forward to their future endeavours. If this is what SA has to offer musically, there is a bright future ahead for South African Music.
The EP can be downloaded from iTunes or you can contact the band through their Facebook page or on Twitter for a copy of the physical album.
Facebook – https://www.facebook.com/shoutheyband
Twitter – @shoutheyband
Instagram – @Shoutheyband
Your feedback is always appreciated; leave your comments and concerns below.
Watch this space for regular updates in the Music and Music categories on Running Wolf's Rant.