Clueless about voice user interface design? Don't stress, we've got you covered with this useful guide. It's a fact that the craze for AI technology has always been on the peak since the first Iron Man was released. Remember when Tony Stark used to operate everything with his AI assistant Jarvis? That was when people knew that this is something that should be tapped into in real life.
The good thing is, we are somewhat there and that too in real life rather than the reel life. The first time we saw the excellence of AI in real life was through 'Siri' in iPhone 4s. That was the first-ever time people interacted with AI, and it made headlines around the world.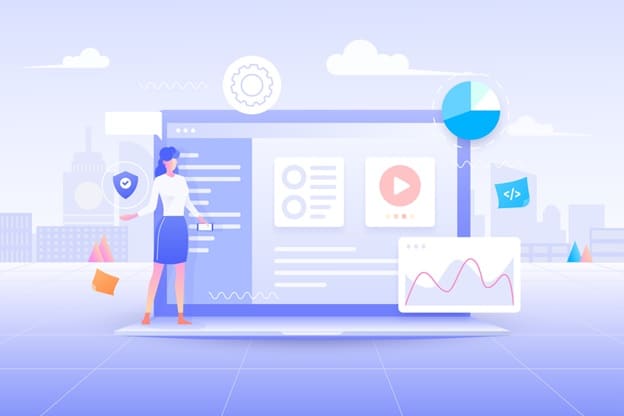 Come to think of it now; we have come a very long way from the first iPhone, and Siri's first 'appearance.' A hundred more have come our way since then, including Alexa, Google Assistant, a new and improved Siri, and many more. These were created by reputable App development agency that have made their name in the market.
What is Voice User Interface?
The acronym for the voice user interface is VUI. It's an interface that helps the user interact with the system using voice commands. As of this date, the most popular voice user interfaces are Siri, Google Assistant, and Amazon's Alexa. The most significant advantage that the VUI offers is a complete eye and hands-free access to interact with the system.
Just like the apps work on any operating system, VUI has a similar working mechanism. It has three layers that need to stay in sync in order to operate the operating system efficiently. The three layers support the ones above them. The voice interface lies in the upper two layers of the device, in the cloud, and not on the device itself.
Why is VUI gaining popularity?
1.     Speaking is convenient
The sentence itself is self-explanatory. Since speaking is more comfortable and effortless, people prefer interacting with the app instead of writing something; having an application running on voice commands will be in demand and preferred by users. It is an additional option that users can use instead of being forced to utilize the 'type only' feature. Therefore, VUI is gaining popularity in almost every industry, and businesses are opting for VUI technology in one way or another.
2.     Prevails Technology
Technology has prevailed and has taken new heights of innovation than we could ever have imagined. The VUI is not limited to just opening your messages or making a phone call, as past VUI programs did. Now, these voice assistants have set a new benchmark. From unlocking your garage doors, booking appointments, and even ordering food, VUI has taken care of everything we could imagine. Why wouldn't you enjoy such an assistant?
3.     Moore's Law
Moore's law suggests that every two years, the performance capability of computers increases, which in return leads lo lower costs. Considering this law, growth chances are very high and promising. Using this law forward, we can safely say that although voice technology was initially something that was just an experiment, but has now become one of the growing industries in the whole world, in every industry.
Once you understand how impactful and promising this industry is, it is time to know how to develop a user interface based on voice recognition. Following is a brief summarization of how to create such a user interface.
1.     Research the Audience
Before getting into any business or designing anything, you need to know about the audience you are targetting. While creating a VUI user interface, you need to hire a user-first design. The aim should be to gather as much information as you can to understand the needs and demands of the users so that you could develop something according to their needs. Your primary focus should be to research the experience of users and what they are looking for, and how the two of you can benefit. Also, you should gather information on the user language to help design an efficient system.
2.     Define
You need to start defining goals at this stage to determine the capabilities and how the product will be. It would help if you created scenarios in your head as to why someone would need your VUI design, and how you can create the need inside for the customers to use your service. You can create a case matrix in some scenarios if you forget the scenarios played in your head. Once you have developed these scenarios, do make sure that they respond to your voice. For instance, 'play music,' 'call Mike' should be one of the few scenarios you need to play and make sure they work.
3.     Create a Prototype
The main focus in creating the perfect VUI design should be to develop the ideal dialogue flow. The dialogue flow for each requirement needs to reach optimum success. It is better to identify the problem at the root rather than letting it grow into a huge mistake. The following are a few points you need to consider while making a prototype to avoid any error.
Ambiguity
Mis pronunciation
Irrelevant options
When conversing with humans, the tone matters a lot as it represents the emotional value of what the person is trying to say. The dialogues that your VUI will speak are a representation of your brand. Don't create dialogues, instead create satisfaction for users.
4.     Test and Launch
Once you have created a prototype, it is time to test it multiple times to remove errors and bugs before launching the app in the market. Test your product with target users, a specific number of users in the market, and take their feedback. If any queries, work on them and launch the product in the market. Once if it has landed, it is time to observe. It is the right time to work in UX analytics. This part is essential as this is the part where users are using the product. Make sure you know what your metrics are supposed to observe to get proper insights.
Watch this space for updates in the Technology category on Running Wolf's Rant.