What are the best home safety devices? Don't worry, today we'll give you a list of the top 5 that are out there for your home. It's a fact that all over the world, it's not a strange thing to encounter a series of domestic accidents such as fire outbreaks that could occur due to electricity abnormalities.  As vital as electricity is in the home, it may wreak havoc if handled carelessly.
Besides, when home electrification is poor, electric equipment and gadgets pose a significant risk. As a result of the dangers posed by electricity in the home, it's advisable to get the home protected with safety devices.
There are various safety devices designed to protect your home and appliances from potential dangers. These devices are worth investing in, considering their conveniences and savings in the long run.
Here are the 5 Best Safety Devices For Your Home
1. Surge Protectors and Power strips
These are beneficial home safety devices that secure your appliance or electrical devices from damage.
Surge protectors may look like power strips, but they are not, and most power strips cannot act as surge protectors. Surge protectors are unique because they are safer since they protect your plugged gadgets in case of an electrical abnormality. Unlike power strips, a surge protector defends your plugged devices from any spike in voltage that can destroy them.
If you choose a power strip over a surge protector, don't just count the outlets; note the amps. You will safeguard your appliances if you plug them in a 15 or 20 amp power strip. That's because all the devices you will plug in the power strip at once will get the needed power to function. The amp ratings of the power strip are more crucial for the safety of your home and appliances.
Furthermore, surge protectors are available at higher prices, contrary to the costs of power strips.
2. Arc Fault Circuit Breakers
This is a particular device made to keep the home safe from electrical fire outbreaks. At times, the electric current may fluctuate, one of the common causes of fire outbreaks. To prevent such an incident from happening, you need to install an Arc Fault Circuit Breaker in your home.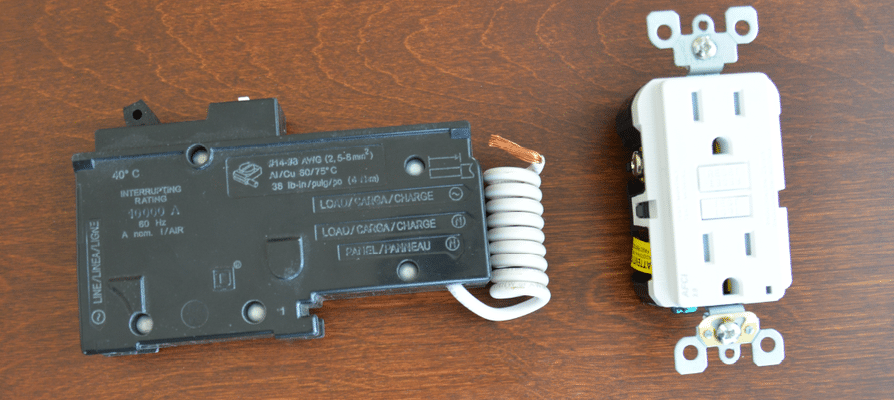 What the device does is sense the fault or error when the electric current is not favorable. Nevertheless, some defects occur if the electric value is not reached. Electric arc flash or fault takes place if the current flows via an air space between conductors. Corrosion or dust on the body of the conductor can cause these faults or flash. In addition, typical wear and tear of the system parts, or wrong installation of the system, can cause these faults.
The arc fault circuit breaker will weigh the current wave compared to the heat that the circuit breaker cannot fix. If this safety device detects any error, it will break the connection, making it impossible to start an electric fire.
3. Ground Fault Circuit Interrupters
This home safety device is meant to prevent electrical shocks from causing significant harm by disconnecting an electric circuit. Ground Fault Circuit Interrupter will disconnect the circuit when an imbalance occurs. The device operates by comparing the current amount going and returning from the equipment in the circuit conductor.
Imbalances in circuits can happen if the current disconnects via man's tissue through incidental grounded connection with recharged circuits. In such a case, this safety device will act to avoid electrocution.
Nevertheless, the device has limited power to prevent short-circuits or overloads. They are primarily installed in the kitchen and bathrooms since water may contact the electric circuit in those places than other rooms in the house.
4. Fuses
Fuses are similar to circuit breakers. The only significant difference between these two safety devices is that you can only use a fuse once while the circuit breaker is replaceable. Likewise, they act in a slightly different manner.
The safety device is fashioned to use a resistance cable with a low melting gauge connected to series into a circuit. Meanwhile, the whole current, of course, must pass through it.
Fuse is made with a melting point, equivalent to the highest current the circuit can withhold. Hence, when the current is above the circuit's highest level, the fuse will supply heat and melt, which will cut off the circuit and prevent overloading. That way, your appliances and the entire home are safe from damage.
You should also know that fuses consist of various melting levels that support different powers of current to pass through them. That's what makes them functional for every home electrical circuit.
Unfortunately, you will need to replace the fuse once the cable melted. That's because it gets useless afterward.
 5. Tamper-Proof Receptacles
This safety device is essential for you to have in your home, especially if you have toddlers. Toddlers get inquisitive whenever they notice unusual openings or holes on the wall and other places.
The tamper-proof receptacle prevents the electric current from going through the electrical wall outlet, except you energize every part simultaneously.  This makes it impossible for toddlers to shock themselves when they insert a knife or spoon in an electric wall opening or hole.
Hence, get your home safe for your toddler to crawl and walk in under less or no supervision.
Conclusion
Secure your home today by purchasing any of the mentioned home safety devices. Note that using these home safety devices without following the essential rules or tips to prevent electric shock or fire will not guarantee one hundred percent safety in your home. Learn other tips to secure your home.
Watch this space for updates in the Hacks category on Running Wolf's Rant.