By now, everyone knows that Bernie Sanders attended the 2021 Presidential Inauguration (where Joe Biden was sworn in as the 46th president of the United States) in Washington D.C.
Everyone knows that Bernie Sanders was there
The Internet spread the word by posting some memes of the US Politician (who wore a mask to protect himself against Covid-19 and some mittens to brave the cold) on every social media network known to man. And it's great.
Check out this collection of 21 Bernie Sanders Memes (that were posted over the last few days)
Bernie Sanders could consider selling hats (as an alternative profession)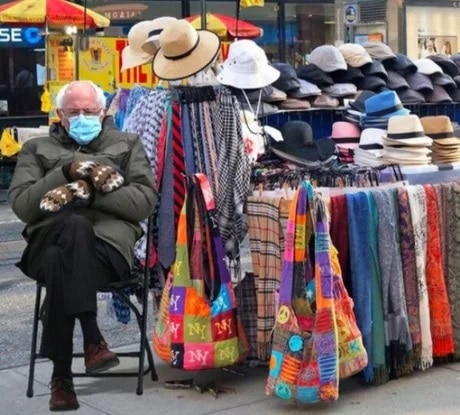 It looks like the Starks love having Bernie over sometimes
Frodo and Sam are wondering who that man in the corner is…
Oppa Bernie Style…
Where's Bernie?
Bernie doesn't seem happy to be hanging out with the Van Tonders in Orkney (thanks Willim Welsyn)
We feel you Bernie, we feel you
Bernie Sanders like hanging out with Keanu it seems
Welcome to this week's episode of Bernie Gone Wild
This week on Bernie In The City…
Bernie Sanders, first of his name, Wearer of Mittens, Sitter of Chairs
Bernie ended up in detention after the inauguration
Bernie likes hanging out with Deadpool too…
Is Bernie Sanders trying to steal The Fresh Prince's Crown?
Bernie is so old, he had some good times with Abraham Lincoln
Bernie Sanders was part of the original Millenium Falcon Crew… (thanks @SethAbramson)
Bernie did Mufasa proud on the 20th of January 2021
Bernie likes hanging out with "The Dude"
Bernie was part of a mission to the Moon…
Bernie was in Bird Box (and Sandra Bullock didn't notice that he was)…
We feel you Bernie, we feel you…
Well, there you have it, 21 Bernie Saunders Memes (2021 Inauguration Edition). Which one of these memes is your favourite? Leave a comment below and let us know!
If you enjoyed this post, feel free to share it with your friends on Facebook / Twitter.
Watch this space for updates in the Humor category on Running Wolf's Rant.