Epic Games has recently released Unreal Engine 5 (UE5), bringing a slew of new exciting features that will revolutionise video games.
Here are 5 Reasons Why Unreal Engine 5 Will Revolutionize Gaming
1. Lumen
Global illumination simulates how light rays bounce off of surfaces, and is effectively what makes lighting look realistic. Filmmakers mimic realistic lighting using path tracing but utilising this method to render even a single frame is time-consuming.
Since video games render anywhere from 30 to over 100 frames per second, game developers have had to use Faked Global Illumination to circumvent technological limitations. Faked Global Illumination involves using pre-rendered path tracing that gets stored in a texture file called a lightmap, which developers use as an overlay on top of the in-game world.
The problem with using the above method is that the lightmap needs to be readjusted as soon as there are any changes that impact a scene's lighting. Unreal Engine 5 allows developers to use true global illumination that updates a scene's lighting in real-time as environmental changes take place.
2. Nanite
Computer-generated imagery (CGI) consist of tiny, flat two-dimensional geometric shapes called polygons. The larger the number of polygons you have in a video game world, the longer a landscape takes to render or load.
Video game developers use Level of Detail (LOD) to minimise these long load times — objects farther away from the in-game camera use a lower number of polygons, which results in faster texture load times.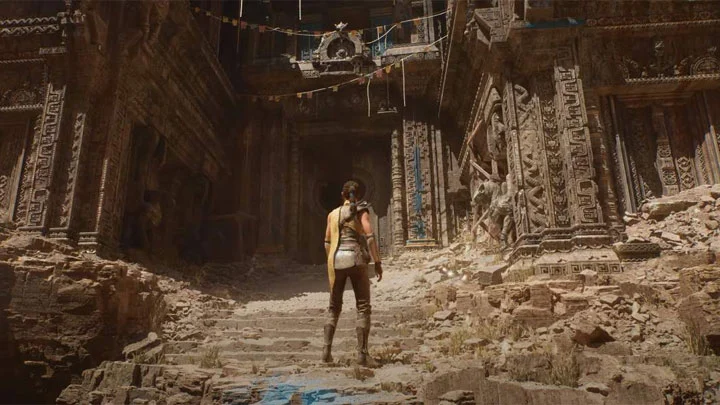 However, developers often have to create multiple LODs for a game's world to look good, which increases game development time.
Unreal Engine'5's Nanite geometry system eliminates the need for multiple LODs since it dynamically alters how many polygons an object has — as you get closer to an object, the polygon count, and therefore the level of graphical detail, increases in real-time.
This means that games developed in UE5 can have photorealistic visuals by using super high-resolution assets that are usually only reserved for filmmaking without grinding performance to a halt.
3. Megascans
The Megascans asset library is available to developers to populate their game worlds with photorealistic objects. The library has over 16,000 assets across categories like 3D objects, plants, and material surfaces.
These assets have even been used in films and TV shows, like The Mandalorian and the live-action Lion King remake. The entire library is free to use and automatically integrated into UE5 for developers' convenience.
4. MetaHumans
Humans are notoriously difficult to generate via CGI, which is why the MetaHumans software is a god-send for VFX artists and game developers alike. The MetaHumans app generates lifelike humans, complete with realistic hair and clothing, in a matter of minutes.
Additionally, with a built-in full facial and body rig, users can easily import a MetaHuman into UE5 and start animating it. For example, the Matrix: Awakens Unreal Engine 5 demo exclusively used MetaHumans in its presentation — including the Keanu Reeves model.
The cloud-based MetaHumans software runs in the user's browser, eliminating the need for high-performance PC hardware.
5. Unreal Engine 4 compatibility
Epic Games has ensured that the transition from Unreal Engine 4 to Unreal Engine 5 will be as seamless as possible. Any UE4 project can easily be converted to use Unreal Engine 5 and all the new features the new game engine offers.
All of these new features that Unreal Engine 5 brings to the table means gamers can expect many incredible video game worlds to be released in the coming years. For example, CD Projekt Red has confirmed that it will use UE5 to make the next game in The Witcher series.
Notably, Fortnite is already using Unreal Engine 5, while other games being developed with the game engine include ARK 2, Senua's Saga: Hellbalde II, and the next Tomb Raider.
Check out the video below to find out why Unreal Engine 5 is a big deal:
Check out the State of Unreal Sizzle Reel Below:
Watch this space for updates in the Gaming category on Running Wolf's Rant.