Saturday the 24th of February 2018 was my birthday, but it was also the day that Incubus played a live show in South Africa for the first time.
Pretoria was the city and the Voortrekker Monument Amphitheatre was the venue where I experienced this amazing day. Not only did I get to see Incubus live, I also experienced some of South Africa's best acts (who were all hand-picked by the massively famous American rock band).
The first act on stage were Hellcats (the Garage Rock Kings of SA Music)
I have to admit that I was blown away yet again by them. This Johannesburg based two-piece band got the party started. They played an energetic set of epic proportions. The only thing that I missed was Warwick Rautenbach jumping into the crowd with his wireless guitar. Now that would've made it even more epic.
Next up were Girl rockers Cortina Whiplash (who have been around for more than 10 years)
Right of the bat one could see just why Incubus picked them as one of the opening acts. These rock 'n roll ladies put on one hell of a show and this was much appreciated by the growing crowd in front of the stage.
Next up was SA Blues Rock legend Dan Patlansky
He released a brand new album about a month ago called "Perfection Kills" and played a few tracks off that. He also shaked things up a bit with tracks like "Backbite" (which happens to be one of my favourite songs by him). Patlansky played an amazing set and proved just why he's one of the best guitarists in the world.
BCUC were up next
I have to admit that even though they've never really been my musical cup of tea, I was impressed with their performance. BCUC wound up the music-loving crowd up to the point where they just could not help embracing the African rhythm inside themselves. Bums were shaking, legs were stomping, the beer was flowing and everything in the world felt good.
Southern Wild made their way onto the stage around 7:30 PM
They immediately sucked in the crowd to experience some great South African rock 'n roll. It was only about the third time that I've seen these okes play and I enjoyed every second of it. They've come a long way since their first gig at Up The Creek festival in 2015.
Next up were the act that many of us have been waiting for, Incubus
Their set was everything I imagined and a lot more. They started their set with "Glitterbomb" (a song from their 2017 album 8), followed it up with "Circles" (from 2001's Morning View album) and "Nimble Bastard' (another song off their latest album).
"Anna Molly", "Megalomaniac" (a personal favorite of mine), "State of The Art" were played next and made everyone notice that they mean business, but things kicked into overdrive when Incubus played 1999's "Pardon Me".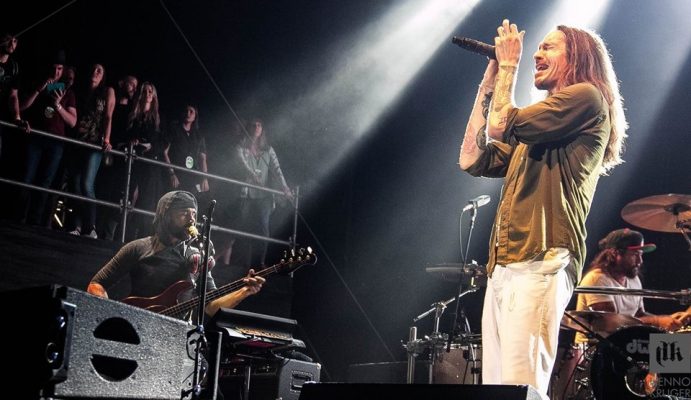 "Paper Shoes" and "Pantomine" were up next followed by "Nice To Know You" (another personal favorite of mine). They also played "Sick Sad Little World", "Stellar" (a song that always blows me away and transports me to far-off places) and "Talk Shows on Mute".
They followed this up with "Vitamin", "Loneliest" and "Wish You Were Here" (featuring a snippet of Pink Floyd's 1975 version). Their set ended with "No Fun" (another song off their 2017 album), "Drive" (which had the whole crowd singing along) and "Warning" (which was their encore song).
I was completely blown away and amazed by their set (which was just over 2 hours long). I've been waiting to see them play live since 1999 and it was definitely worth the wait. I really hope they come back to South Africa one day.
Kudos to We Are Live for organising what was one of the best-organised concerts I've ever attended. There were no issues with the bar queues and bathroom queues and there were more than enough foodstalls for everyone. Everything ran like it should and I take my hat off to them. Please bring more international bands to South Africa!
Thanks to We Are Live, all the bands that played, my crew (Potskerf & Kobus) and everyone I ran into on the day for making my 41st birthday one of the most memorable days of my life.
Watch this space for regular updates in the Music category on Running Wolf's Rant.